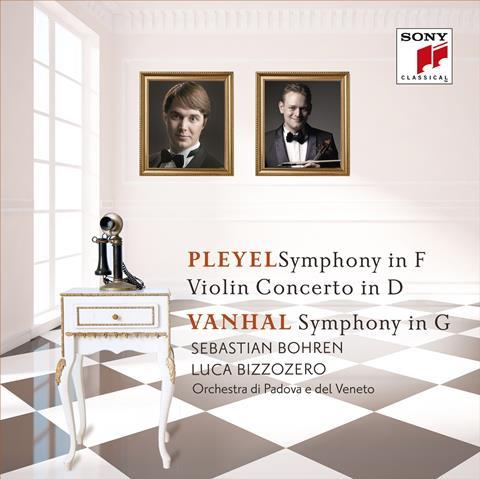 The Strad Issue: December 2015
Description: Rediscovered works by lesser-known contemporaries of Haydn and Mozart
Musicians: Sebastian Bohren (violin) Orchestra di Padova e del Veneto/Luca Bizzozero
Composer: Pleyel, Vanhal
Sebastian Bohren seems surprisingly laid-back in his approach to Pleyel's Violin Concerto. Nevertheless, he performs the work with style, vitality and no mean virtuosity, playing with athleticism, taste and substantial precision (although there are instances when his intonation in both the higher registers and some double-stopping is slightly off-centre). He is constantly sensitive to the work's subtle expressive nuances, particularly in the melancholy central Adagio cantabile, in which the tone of his 1710 'King George' Stradivari resonates resplendently above the orchestral texture. His cadenzas are pertinent and appropriately realised, although that for the first movement seems excessively long for the period.
Luca Bizzozero and his troops, occasionally coarse and untidy in the concerto, warm to their more prominent role in these world premiere recordings of symphonies by Pleyel and his teacher Vanhal. Vanhal's charming work includes ample evidence of Sturm und Drang influence in its three movements (the minuet is omitted in the source utilised); Pleyel's proves his inventiveness, as demonstrated in its somewhat operatic first movement, graceful Andante (featuring a beautiful oboe solo) and witty, skilfully varied rondo finale. The recording is well engineered but a couple of production errors regarding catalogue numbers remain.
ROBIN STOWELL