Jacqueline du Pré's 1965 recording of Elgar's Cello Concerto set the benchmark for every cellist who followed her. Tully Potter explores the enduring popularity of her powerful and iconic performance
Although Jacqueline du Pré was not the first great player to record Elgar's Cello Concerto, the performance that she, the London Symphony Orchestra and John Barbirolli set down on 19 August 1965 became an instant classic. The first two movements, taped virtually in one take, provoked applause from the orchestra, who had been grumpy at the start of the morning. Word got around EMI that something special was going on at Kingsway Hall, London, and by the end of the afternoon many staff were sitting at the back of the venerable venue (now replaced, like St James's Hall and Queen's Hall, by a hotel). With a sympathetic producer, Ronald Kinloch Anderson, an expert engineer, Christopher Parker, and a well-established rapport between 20-year-old soloist and veteran conductor, the auguries were good.
Sales of the original LP, with its striking white cover, were helped by having Janet Baker's peerless version of Sea Pictures on the other side, but there was no question of du Pré being the junior partner. She was already fixed in the mind of the British public as the living soul of the Elgar, and that impression still spreads: only the other day I heard Sheku Kanneh-Mason say that du Pré's Elgar was his inspiration in his early days as a cellist.
The work had already done well on record. Apart from Beatrice Harrison's abridged acoustic version, it had two outstanding recordings in 1928, from Harrison and W.H. Squire; and Pablo Casals did it in 1945. The finest interpreters of the 1950s were Paul Tortelier and Zara Nelsova, with Argentine-born Anthony Pini maintaining Britain's claims; but whereas both men recorded the Concerto in the studio, a live Nelsova version surfaced only recently.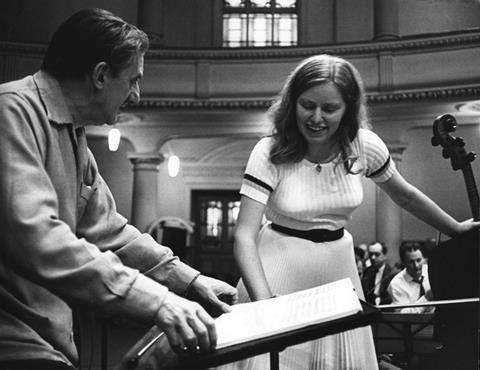 Jacqueline du Pré, with 19th-century Romantic instincts and 20th-century tonal and technical resources, embraced the work lock, stock and barrel, hook, line and sinker. For many it seemed as if it had been waiting for her to bring it to full life. Going back to her recording after an interval, you notice how she and Barbirolli adapt to Elgar's natural ebb and flow. She never lets the opening theme sag; in the Allegro molto with its difficult saltato she is more adroit technically than many rivals; her instinctive portamento, essential to Elgar, flowers in the Adagio; the link to the Allegro finale is well timed; and in the finale itself she has technical security, tonal variety and profound intensity. The sonority she draws from the newly acquired 'Davidov' Strad of 1712 has a solid core and a warmth that bespeaks sincerity and fierce identification with the music.
Ballet based on life of Jacqueline du Pré coming to Royal Opera House
A tribute to Jacqueline du Pré
Jacqueline du Pré on learning to live without the cello
Violinist Pinchas Zukerman remembers cellist Jacqueline du Pré
For me, the high tide of du Pré's brief studio career came with the 1968 Schumann Concerto. For such a young player, a year or two made a huge difference, which is why I urge du Pré enthusiasts to supplement the 1965 Elgar with the live performance that she, Barbirolli and the touring BBC Symphony Orchestra gave in Prague on 3 January 1967 (Testament SBT 1388). Overall timings are similar but there is more vehemence at the start, more daring rubato, more inwardness in that first theme and a quality I can only call tenderness. Again the link to the Allegro molto is marvellous, the second movement itself goes well, she finds more Innigkeit in the Adagio and more spontaneity in the finale. Her vibrato is evident but always starts right at the inception of the note, and she can take her tone down almost to a whisper.
Around this time I met du Pré with mutual friends. We spoke for five or ten minutes but I was unaware who she was until she left and someone said: 'You know who that was…' She seemed a nice girl. As the 1960s wore on, I found it hard to like her playing but we were all ignorant of what ailed her. Fortunately she has left enough recordings to show what she could do at her best, and these Elgar performances with Barbirolli are among them.