Polish virtuoso Janusz Wawrowski's new arrangement of Ludomir Różycki's Violin Concerto reveals a far more optimistic work than its wartime origins suggest, writes Harry White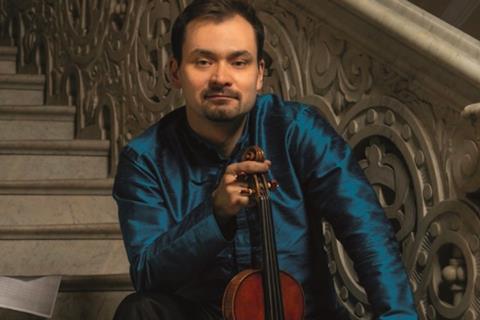 Photo: Fabrizio Maltese
Janusz Wawrowski
The following extract is from The Strad's April issue session report. To read it in full, click here to subscribe and login. The April 2021 digital magazine and print edition are on sale now
Following 63 days of brutal street fighting, Polish rebels finally surrendered to Nazi forces on 2 October 1944. Two months earlier, wary of an advancing Red Army, the rebels had begun an insurrection against Hitler's occupiers in what was later to become known as the Warsaw Uprising. Desperate to avoid a pro-communist regime, the Poles had hoped to gain control of the city before the Soviet arrival – but they were outnumbered and outgunned. Their defeat prompted brutal Nazi recriminations, with much of Warsaw's population deported and great swathes of the city destroyed. Among the many who fled for their lives was composer Ludomir Różycki, who, interrogated by the Gestapo, had refused to sign the Volksliste – an attempt to classify inhabitants of Nazi-occupied territories. Fearing arrest, he left for Osieczany, a little village in southern Poland, and it was in nearby Katowice that he was to die suddenly less than a decade later. Left behind and buried in the garden of his Warsaw villa was Różycki's suitcase. Inside lay the manuscript of his Violin Concerto.
Read Session Report: Shining a light
After the end of World War II, construction workers discovered the suitcase and its unusual contents during routine excavations. The manuscript, in fact an expanded piano reduction of the Violin Concerto with orchestral annotations, was placed in the Polish National Library along with the other musical contents of the suitcase. 'It's an extraordinary story,' says Polish virtuoso Janusz Wawrowski, whose recording of Różycki's reconstructed Violin Concerto with the Royal Philharmonic Orchestra and conductor Grzegorz Nowak is released on Warner.
This article was published in the April 2021 David Garrett issue

The German violinist talks about making the most of his composition skills, and maintaining a balance between classical and crossover careers. Explore all the articles in this issue .Explore all the articles in this issue

More from this issue…