The Russian–British violinist on moving between artistic cultures and the future of collaborative music making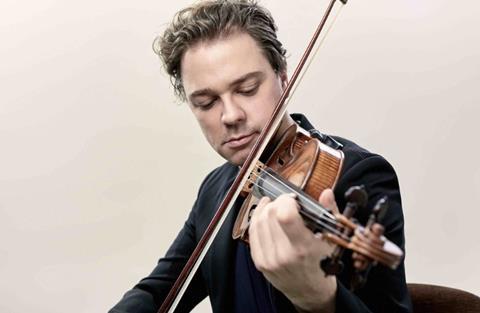 Although my family was part of the Russian and Soviet classical establishment, I was never really entrenched in that country's way of doing things because I left when I was so young. Along with my mother, my teacher Natalia Boyarsky and her son, I came to the UK when I was eight years old to study at the Menuhin School. I was still having two lessons a week with the same teacher as before, but I had other experiences that just wouldn't have happened if I'd stayed in Russia. Chamber music started right away, for example – I was put into a string quartet with three other eight-year-olds as soon as I arrived – and I had a composition teacher who encouraged me to write whatever I wanted. So even though I'd been brought up with a heightened awareness of a tradition that produced so many of the 20th century's greatest musicians, it was exciting to discover other kinds of playing so early on. It definitely helped my development into a very multifaceted musician.
For classical music to thrive, we need proper funding and truly accessible education – not just for the next generation of players, but for our future audiences, too. I was at the Menuhin School with Nicola Benedetti and it's been amazing to see the work she's been doing recently to introduce young people to classical music. In the long term, those same people will be this country's future soloists, chamber musicians, orchestral players and, perhaps most importantly, our next generation of teachers.
I've always wanted my career to include as many different things as possible and I decided not to audition for an orchestral job, even if one might have provided a relatviely secure salary. It's true that our colleagues in well-funded groups – particularly those in countries such as Germany and the US – aren't under the same financial strain at the moment as freelancers in the UK. If audiences are going to be limited in size for the foreseeable future, though, life is going to be easier for smaller ensembles than for bigger ones. The reason some major orchestras have said they won't be performing at all until next year might not be because they're not allowed to, but because their overheads are so high that they can't afford to keep going without selling thousands of tickets. Smaller groups are like chameleons. They can be much quicker to embrace new configurations, performance venues and digital innovations.
To help me out earlier in my career, I used to be offered work in the Razumovsky Ensemble by its artistic director Oleg Kogan, an old friend of my family. I once arrived at one of their rehearsals having flown in from somewhere else and immediately started talking about how exhausted I felt. 'Don't say that,' he told me. 'You're so lucky. You're travelling around the world playing the violin and being paid to do it.' He was right, and it taught me not to complain about being tired!
This article was published in the August 2020 TwoSet Violin issue

The YouTube comedy duo discuss graduating from viral videos to sold-out stage shows. Explore all the articles in this issue.

More from this issue…