Ahead of the UN International Day of Forests on Sunday, the cellist makes a rallying cry to save the last 6% of the pernambuco forest for musical bows
Imagine a world without bows! A pizzicato rendition of Elgar's Cello Concerto wouldn't have quite the same ring, would it?
The tools of our music are shaped by history and geography – and this can present challenges. The Brazilian pernambuco tree, favoured by virtually all bow-makers for its unique ability to bring out resonance in string instruments, has been so affected by deforestation that if we don't take action, it might have as little as ten years left until extinction.
What a relief, then, to discover Trees of Music, a new initiative to cultivate sustainable pernambuco. It's not the first project of its kind, but it's using lessons learnt from previous projects to improve efficiency of planting, while taking the utmost care with the surrounding ecology. Nature is a fantastically complex system, and you can't solve one problem without paying attention to the whole!
I know the magical atmosphere of the Brazilian forests just outside Rio de Janeiro, having explored them with my wife, Viktoria Mullova, during a recording project about eight years ago. I never knowingly spotted a pernambuco tree, though these forests are one of its few remaining habitats. It's beyond heartbreaking to realise how little Brazilian forest remains. We've all heard about the catastrophic destruction of the Amazon, but less attention has been paid to Brazil's other monumental forest, the Mata Atlântica (Atlantic Forest), home of the pernambuco, which once covered more than five times the size of the UK. Now just 6% is left. An area the size of a football field can contain 450 separate species of tree, and it is shrinking at around 1-3% per year. David Attenborough's horrifying global statistic comes to mind: before WWII, 66% of the world's landmass was wilderness; in 2020 it was just 35%.
How ironic for this to threaten the tree that literally gave its name to Brazil. Portuguese explorers, first landing in 1500, very quickly discovered the pernambuco tree's use for red dye, giving it the name 'pau-brasil' (literally 'reddish tree'). The resulting trade was so profitable that the land became known as 'Terra do Brasil' (land of Brazil). The wood's ability to hold a fixed curve made it the go-to material for bows since François Tourte, the 'Stradivari of the bow', in the 18th century. None of the proposed alternatives, such as carbon fibre, have caught on. An alarming blackmarket pernambuco bow trade continues in spite of the species' endangered status. In 2018, over 20,000 bows from illegally logged wood were seized. Even the legal industry can be astonishingly wasteful: in order to find unblemished wood, a kilogram of wood may be used to make a single bow, and trails of fallen, disused trees lie in their wake.
Read Matthew Barley: How a skiing injury changed the way I play
Read Life Lessons: Matthew Barley
Watch: Viktoria Mullova & Misha Mullov-Abbado: O Cabo Pitango
I think all of us musicians feel desperation when we read about the state of the natural world. But it's especially jarring to consider that immaterial beauty, music, can contribute to such physical harm. There's a strong parallel with the anxiety so many of us feel about the carbon footprints of our touring. Surely it ought to be possible to make great art that doesn't inadvertently destroy the planet in the process! Or, better still, align our art with active efforts to heal?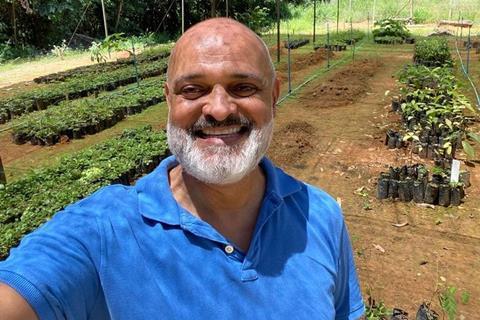 Wonderfully, this is possible. The hero of the pernambuco story is Marco Raposo, a legendary Brazilian bowmaker who has spent decades researching every aspect of sustainable bowmaking, not least the soil from which the pernambuco tree grows. Marco has teamed up with Trees of Music with the aims to plant 50,000 pernambuco saplings, reforest 150 water springs, and train 70 farmers to cultivate sustainable pernambuco.
Meanwhile, Trees of Music is reaching into the classical community, both to support Marco's project (which relies on our generous donors), and also to raise wider consciousness around the ecological footprints of our art. To launch the project, we've just made a music video featuring Viktoria, my bassist stepson Misha, and me, accompanied by a lockdown string orchestra with members from UK, USA, Brazil and elsewhere, performing music by Chiquinha Gonzaga, the pioneering 19th century Brazilian composer, conductor, feminist and abolitionist. Given how much we string players owe to a Brazilian tree, it felt poetically appropriate to honour the music of this country. (Incidentally, Brazilian melodies always seem to translate especially well onto string instruments.)
Trees of Music will be making more supporting videos, both musical and educational, and want to reach out to as many string players as possible to perform and help spread the word. It is indescribably exciting to support a project that makes a difference on so many levels close to my heart: the ancient craft of bowmaking; biodiversity; sustainability; the art of string playing; and beautiful music. Now, can we get a veritable chorus of string players behind this? Go to treesofmusic.org to find out more about this incredible tree, and how we as musicians can help save it!
To support Trees of Music's campaign, find out more at treesofmusic.org.