Vaughan Williams' much-loved work speaks with directness to everyone - musician or otherwise - writes Chris Hopkins, principal conductor of the English Sinfonia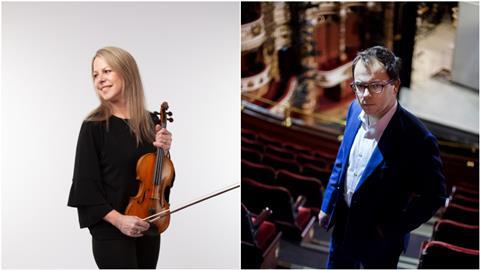 For 100 years this month, Vaughan Williams' The Lark Ascending has been a mainstay of programmes all over the world. There have been over 150 recordings from virtually every violinist of note, it has topped Classic FM's Hall of Fame nine times and yet, now on the eve of its 100th birthday, its popularity seems still only to be rising. In many ways though, for all its accessibility and simple charm, it is a piece layered in juxtaposition: a paean to peace in a time of deep conflict; an organised fantasy; sophistication and craft masquerading as simplicity. These are all qualities and contradictions that still speak to us today. They are brilliantly brought together by a unique composer who looked not only over his shoulder to Tallis and Byrd, to Shakespeare and Bunyan, but also forwards; studying with Ravel, finding a new and unique voice, and ultimately transforming the landscape of British symphonic writing.
Writing about his Pastoral Symphony, conceived on active service (no doubt with The Lark Ascending rattling around in his head as well) Vaughan Williams wrote, 'It is really war time music – a great deal of it incubated when I used to go up night after night with the ambulance wagon … it's not really lambkins frisking at all as most people take for granted'. There are connections between this, his third symphony, and The Lark; quiet contemplation underlined by deep longing for a different time, seemingly simple but beguiling melody that goes straight to the heart, and as complete an amalgamation of folk-song style into his own personal idiom as you will find anywhere.
Vaughan Williams' passion for English folk song had started towards the end of the 19th century, indeed by 1898 he was involved in forming the Folk-Song Society. By 1903 he was lecturing in folksong and with a busy decade collecting songs himself before the outbreak of the Great War, I think it is fair to say that by 1914, the language of folk-song was as much an intrinsic part of his own musical language as any other influence, and plays no small part in the directness with which The Lark speaks to anyone, musician or otherwise.
Similarly, poetry had long held a fascination for Vaughan Williams, from Tennyson, Coleridge and Rossetti, to Whitman - whose freedom of expression in many ways opened the door for the composer to find his unique voice. Whitman's seminal Leaves of Grass became the basis for the composer's first symphony of nine, A Sea Symphony:
And lo, thou gently masterest the orbs,
Thou matest Time, smilest content at Death,
And fillest, swellest full the vastnesses of Space.
I think there is more than a hint of this timeless and limitless quality also present in The Lark. The opening cadenza is beautifully paced, fluid but unhurried; it's not virtuosic but it is nonetheless as striking I think as any opening. In the score of my friend and colleague, violinist Janice Graham, handed down from her teacher Frederick Grinke (who had a long and close relationship with Vaughan Williams) there is a comment pencilled from the composer himself: 'It mustn't sound like a nightingale'. This is not cheap imitation, but music which must be played with thought, quality of sound and integrity.
Read: Jennifer Pike on getting to the heart of The Lark Ascending
Watch: Philharmonia Sessions: Nicola Benedetti plays The Lark Ascending
There is another piece which comes to mind, Sir Arthur Bliss's magnificent kaleidoscope A Colour Symphony (also indelibly tainted by the memories of the Great War) which is unsurprisingly not really about colours at all. When all hell breaks loose in the fourth movement, entitled Green (the colour of 'hope', 'youth' and 'Victory'), we know how painful the unimaginable cost of this 'victory' has been – hope and youth destroyed in equal measure. Bliss was glimpsing hell at the Somme while Vaughan Williams was doing the same carrying stretchers in Ecoivres.
Similarly, in The Lark Ascending might we hear not a lark itself in a literal sense but a representation in music of what the bird symbolises: peace, wisdom and harmony. A vision of something in the past now forever out of reach, 'Never such innocence again', as Philip Larkin wrote.
In the poem which inspired Vaughan Williams, George Meredith's words are noble and honest, a love of Earth and a longing to see it at its best; where rational, self-controlled humanity is at one with nature. The marriage of the two is the key to divinity and harmony; the one (nature, as represented by the lark) guiding the other, even those 'whose lives, by many a battle-dint defaced', to the peaceful light:
Awakening, as it waxes thin,
The best in us to him akin
It isn't hard to imagine how the joyfulness and charm of Meredith's 'starry voice' inspired Vaughan Williams at these times of darkness with war on the horizon and later with the terrible costs of it etched into his consciousness.
Without doubt, The Lark is still going strong at 100 in part thanks to its simple, beguiling melody and charm, but what may superficially seem like escapism belies a noble and important aim. There is a deeply personal and authentic longing for wisdom and reason. It is music that speaks on many levels, and I can't think of a period in my lifetime where this message, this call for 'self-forgetfulness divine' has been more relevant or more urgent.
Violinist Janice Graham and pianist Chris Hopkins perform the original violin and piano version of The Lark Ascending at St Johns Smith Square, London, 100 years to the day since its premiere, on 15 December 2020 at 1.05pm and 7pm as part of the English Sinfonia's 'English Miniatures' concerts: www.sjss.org.uk/whats-on