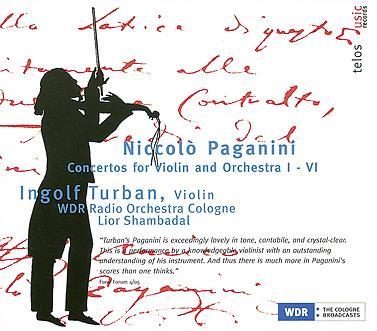 The Strad Issue: January 2008
Musicians: Ingolf Turban (violin) WDR Radio Orchestra Cologne, Lior Shambadal (conductor)
Composer: Paganini
In the hands of Ingolf Turban Paganini is not just an artist and virtuoso but an opera composer manqué. He plays many of the melodies as if they have lyrics, and mightily moving some of them are, eloquent avowals of love and tragedy. They sit between the pyrotechnics like the heartfelt outpourings of some romantic tenor, wracked with emotion amid the festivities around him on stage. Some are highly wrought – there is a deal of anguish in some of the G string melodies in the First Concerto. Others float plaintively – there is some delightfully wispy playing over pizzicato accompaniments in the third.
Of course, there are other characters in these concertos, many of them involving the extreme technical demands that come with the territory. But Turban has a surety of technique which can not only overcome these but put them to good musical service, and as the double-stoppings and the ricochet bowings crowd in he can remain light and witty. This is, after all, essentially early 19th-century music, and in the first concertos particularly there is a Classical elegance underpinning these performances. On the whole Turban keeps things moving, and manages the neat trick of being an unashamed showman without being over-indulgent. He has a beautiful, bell-like tone quality in the higher registers, something enhanced even more, as he says in the accompanying booklet, by following Paganini's instruction to tune the violin up a semitone for the First Concerto. These are all fine performances, exciting and affecting by turns. Perhaps most of all there is a cheerful open-heartedness about them, and a great deal of charm. The joie de vivre of 'La campanella' would surely make anyone smile.
The WDR Radio Orchestra Cologne under Lior Shambadal provides sensitive support, mostly by keeping in tempo and staying out of the way, though with occasional, splendidly robust, cymbal-crashing tuttis (the wind solos in the opening of the Fifth Concerto are delightful, however). The sound is bright and clear, with Turban balanced nicely with the orchestra in the more peaceful, lyrical moments and very much to the fore when the going gets hot.
TIM HOMFRAY