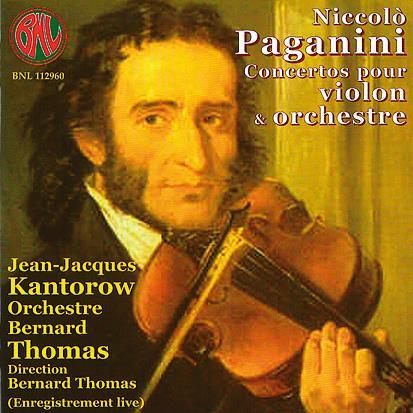 The Strad Issue: January 2009
Musicians: Jean-Jacques Kantorow (violin) Bernard Thomas Orchestra, Bernard Thomas (conductor)
Composer: Paganini
The origins of Paganini's works in the achievements of his forebears are often overlooked, given the predominance of his reputation as a mysterious and even unearthly figure. From today's perspective, his concertos fit seamlessly into a line of succession of Italian violin compositions, and on hearing these concertos one is reminded of the heritage of Viotti – albeit extended in range and scope. Paganini's skill as an orchestrator elevates these two concertos above the level of mere technical trifles, and no doubt explains their continued popularity.
Jean-Jacques Kantorow, winner of the first prize in the Carl Flesch competition in London of 1962, and of the 1964 Paganini Competition in Genoa, gives a charismatic if flawed account of these works, recorded live in Paris to mark Paganini's bicentenary in 1982. Bernard Thomas and his eponymous orchestra accompany with admirable accuracy and sensitivity and, for a live recording of this date, the sound is very good and clear.
Kantorow's playing is a rather mixed affair. While he attacks the works with aplomb, there are a number of infelicities of intonation, such as, rather unfortunately, at the opening of the First Concerto. His tone in spiccato passages can be rather harsh; conversely, his vibrato in melodic passages can be much too wide – thus the tonal palette veers between a caricature of modern 'cantabile' playing and equally exaggerated percussive staccatos.
These concertos make little sense when played in a retiring manner, however, and Kantorow cannot be criticised for a lack of style.
David Milsom