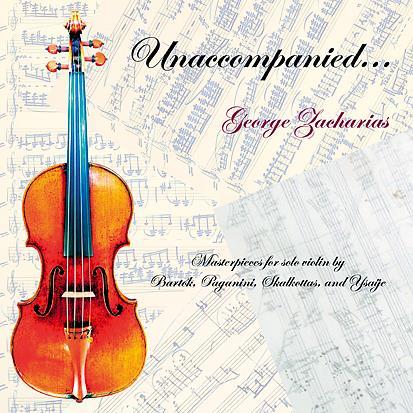 THE STRAD RECOMMENDS
The Strad Issue: January 2009
Musicians: George Zacharias (violin)
Composer: Paganini, Bartók, Skalkottas, Ysaÿe
By any standards this is an outstanding disc debut. George Zacharias, a young Greek violinist, studied in Athens with Despotidis, in London with Zivoni and in Sydney with Wilkomirska. He has been doing a PhD on Skalkottas's music, at the Royal Academy in London (RAM).
He frames his programme with Paganini variations, brilliantly played. The more enjoyable set is 'Nel cor', where the tremolos, harmonics, left-hand pizzicatos and bow-bouncing acrobatics fit into a fine sequence. 'God save the King' is so fiendish that I rarely hear it in concert. Zacharias does well with it – fellow fiddlers will blanch to hear him.
Bartók's Sonata, with the microtones in the finale that Zacharias has researched in the RAM Menuhin collection, is notable for excellent tempos. The first movement is played with precision and a lovely soft ending; the Fuga is incisive; Zacharias finds a beautiful mezza voce quality for the Melodia, sometimes unearthly quiet; and he swings nicely through the Presto.
Skalkottas's Sonata, his earliest surviving work, is in six short sections, the fourth and sixth identical. In this performance it comes across impressively. It can be described as '1920s eclectic' but you hear a personality emerging. Zacharias is equally good at the dramatic and poetic parts.
Ysaÿe's Sonata, written for Quiroga with Spanish elements, rightly draws a more Romantic tone and style from Zacharias. The recordings catch the 1810 Ceruti well, although I would like more 'ring' at the top.
TULLY POTTER