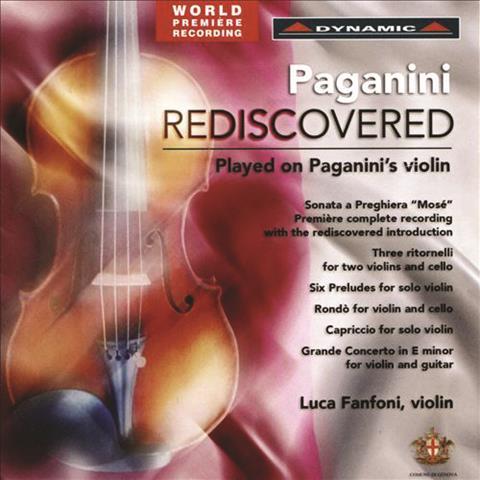 The Strad Issue: April 2016
Description: Important repertoire played on Paganini's own violin
Musicians: Luca Fanfoni, Daniele Fanfoni (violins) Luca Simoncini (cello) Luca Ballerini (piano) Fabrizio Giudice (guitar)
Composer: Paganini
Paganini's music is so difficult that it is always a wonder to me that it is played at all. Certainly, many of the works on this disc are immensely hard, including the sul-G Sonata a preghiera (with rediscovered opening sections) and the exuberant Grand Concerto in E minor for violin and guitar, with its opening movement of extraordinary length. Even the short works elsewhere require amazing prowess.
Sadly, much of the interest (these works are played on Paganini's 1743 'Cannon' Guarneri 'del Gesù') is lost in the execution. Luca Fanfoni's supporting cast is right enough but I was disappointed by his own playing. Throughout the disc there are numerous (often substantial) discrepancies of intonation – as in the fourth of the Six Preludes; and the tone quality, while always admirably energetic, is overplayed to the point of distortion and certainly well beyond the confines of tonal beauty; most of the time, this is an uncomfortable experience.
Dynamic's recording sounds amateurish – the piano is too distant in the Sonata, and elsewhere it sounds as though far greater attention needed to be paid to the balance of detail and ambience. Having said this, the material is certainly of importance and the disc is admirably innovative.
David Milsom