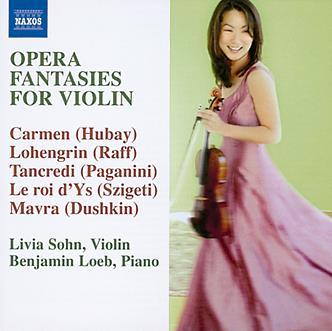 The Strad Issue: January 2008
Musicians: Livia Sohn (violin) Geoff Nuttall (violin/viola) Benjamin Loeb (piano)
Composer: Hubay, Raff, Stravinsky/Dushkin, Golijov, Weill/Frenkel, Prutsman, Paganini, Bizet/Loeb & Lalo/Szigeti
Livia Sohn, a former graduate of the Juilliard School and pupil of the legendary Felix Galimir, possesses a remarkably lithe and transparent tone of exceptional purity. It is not a big sound, and on paper her lack of arresting physical projection should count against her in this particular repertoire. Yet her virtually blemishless accounts of such 'finger-breakers' (as Ruggiero Ricci used to call them) as Hubay's 'Carmen' Fantasy and Paganini's Variations on 'Di tanti palpiti' are nothing short of remarkable. Her subtle use of a narrow but never intense vibrato leaves her particularly vulnerable to potential lapses in intonation, yet even when under the most fearsome technical pressure at high velocity, every note rings true with pinpoint accuracy.
The highlight of the recital is Stephen Prutsman's 15-minute Fantasy Extract on Themes from Richard Strauss's Der Rosenkavalier, which integrates virtuoso acrobatics and legato radiance with supreme elegance. From the start, which daringly sets the glorious opening of the opera as an exuberant series of espressivo 6ths, there is a palpable sense of exhilaration and portamento luxuriance to have one altogether forgetting that one is listening to a virtuoso pot-pourri.
Kurt Weill's post-Great War irony breathes the air of a different planet, although Mack the Knife proves no less adaptable to violin pyrotechnics, as witness Sohn's stunning negotiation of some rapid-fire left-hand pizzicato and sotto voce double-stopped harmonics. Sohn's violinist–violist husband Geoff Nuttall (co-founder of the St Lawrence Quartet) blends in effortlessly in arrangements of Golijov's From My Window and Bizet's Au fond du temple saint, and the recording captures every nuance with commendable detail.
JULIAN HAYLOCK