The role of the bow in bringing out a string player's sound is often neglected, even though musicians can spend years looking for the perfect one. Charlotte Smith talks to players and dealers about how they go about finding the perfect instrument-bow combination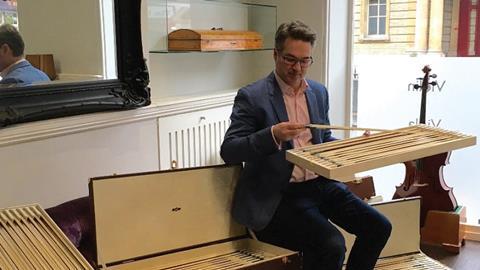 The following article is published as part of a larger feature on finding the right bow for your instrument in The Strad's March 2017 issue, out now – download on desktop computer or through The Strad App.
'The standard of contemporary bow making has gone up considerably in the past 30 or 40 years and you can buy models that compare favourably with older bows of equivalent value,' says J&A Beare director Simon Morris. London dealer Sean Bishop (pictured) agrees: 'The best contemporary bow makers in the world would charge around £5,000–£10,000, which is not even close to the cost of, for example, a Sartory, which would average at £25,000.'
But does the stringed instrument market's antique-versus-contemporary debate apply to the bow world? Certainly [violinist Tasmin] Little, [violist Maxim] Rysanov and [cellist Daniel] Müller-Schott profess a preference for playing modern repertoire, requiring projection and 'harder' sounds, with a modern bow. Little describes using her recently acquired 2015 Helge Netland bow in contemporary composer Rachel Jennings's very demanding solo arrangement of Albéniz's Asturias, leyenda because its 'really strong, new stick' has great 'reserves of energy' that allow her to perform 'lots of flashy, technical' passagework with absolute clarity. Similarly, Rysanov says, 'I would not use an older bow in 20th-century repertoire as I cannot project above an orchestra.'
For Müller-Schott, however, 'the complexity of sound' elicited from an older bow is far greater than from a modern equivalent. 'New bows are very usable and practical, but time does make a big difference,' he says. 'It should be easy to create an exact copy of a Tourte, but this is not the case, so there must be something happening with time. The wood of older bows has absorbed the energy of the players. When I try modern bows they are all very good, but you just can't produce as much depth in the sound.' Müller-Schott's assertion is confirmed in the observations of Bishop. 'I find brand new bows that I sold 20 years ago have become softer and more supple as the years have gone on,' he says. 'They start with a fairly hard sound and become mellower. Of course, wood is organic so a stiff stick can change with time.'
Nevertheless, if one considers the number of factors affecting bow, instrument, personal playing technique and taste, then generalising in terms of 'old' and 'new' is not necessarily helpful, says J.&A. Beare bow restorer Derek Wilson. 'Most musicians I know use both old and new bows,' he says. 'Every bow reacts differently to different styles of music and performance situation because of strength, liveliness, balance, weight and comfort. I'm sure vibration going through wood for decades does alter the bow from new, but as to how the bow is changed, the jury is still out!'
To read the full article on choosing a bow download The Strad's March 2017 issue on desktop computer or through The Strad App.