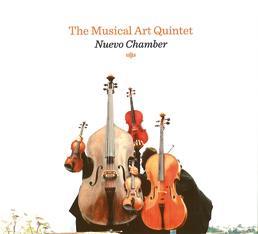 The Strad Issue: January 2012
Description: A blend of world and chamber music from a promising new ensemble
Musicians: Musical Art Quintet
Composer: Various
The Musical Art Quintet (MAQ) grew out of a San Francisco jam night in 2008 and, now as then, performs new Latin-influenced pieces written or arranged by bassist Sascha Jacobsen. These are a bit of a mixed bag: the opening Milonga de San Francisco is stylish and vigorous while the introduction to Algo nuevo is beautifully arranged. There are moments of over-repetition and predictability, though, especially in some of the melodies – the viola tune in the tango El viejito is a bit under-spiced, for example.
Jacobsen himself adds a welcome bass growl to this piece and also shines in Mi chinita, bringing weight and a subtle pulse without ever leaving the shadows. Higher up, cello and violin have some nice unison moments that bring sudden bursts of energy, although there are some slight lapses in ensemble in the syncopation of Madagascan tune Paddies.
The group's jam-session origins run through the album as an undercurrent, with passages of improvisation and sprinklings of extra percussion helping to lift the album, even if some of them are a little bizarre. This isn't always that idiomatic, but like MAQ as a whole, it is a refreshing addition to the standard string quintet format.




James Crel