The prize was given by the German city of Duisberg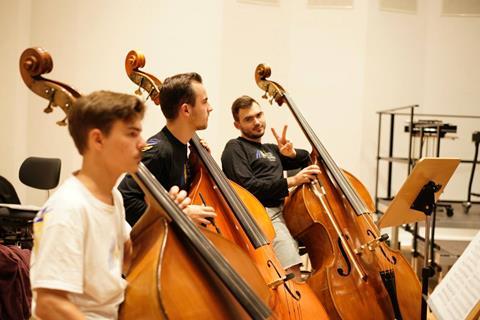 Read more news articles here
The Music Prize of the City of Duisberg has been awarded to the Youth Symphony Orchestra of Ukraine (YsOU). The €10,000 prize intends to honour the artistic and peace building work that the orchestra has undertaken over the past five years.
The award ceremony will take place on Sunday, 20 November 2022 at the Theatre Duisburg.
The orchestra was founded in November 2016 by Ukrainian conductor Oksana Lyniv. Invitations were sent out to music schools across Ukraine, inviting young musicians between the ages of 12 and 22 to apply for the youth orchestra. Today, around 85 musicians from across Ukraine are selected from a highly competitive process to take part in the orchestra's main season. The orchestra is supported by three German partner institutions - Beethovenfest Bonn, the Federal Youth Orchestra of Germany and international broadcaster Deutsche Welle.
'There are many [youth orchestras] in Germany, each region has its own orchestra,' Lyniv, who studied in Germany, told the Duisburger Philharmoniker. 'It was my dream to create something similar in Ukraine. And so we made our debut at the LvivMozArt festival in 2017, then we played at the Beethovenfest in Bonn, Kyiv and Berlin.'
After its debut, the orchestra has continued its work developing its young talents, as well as being promoting Ukrainian culture to the world. 'Through successful application and selection processes, children from all regions of Ukraine can become members of the orchestra,' said Lyniv. 'We are very proud that over 25 large and small towns and villages are represented in our orchestra.'
The Duisburg Music Prize was first awarded in 1990 and celebrates outstanding achievements in the field of music and musical theatre. The Köhler-Osbahr-Foundation provides the prize money of €10,000. Recent string recipients of the award include violinist Carolin Widmann in 2020, cellist Nicolas Altstaedt in 2018 and the Faure Quartet in 2012.