The Chinese-American cellist played Bach's Cello Suite No 1, making a point about global unity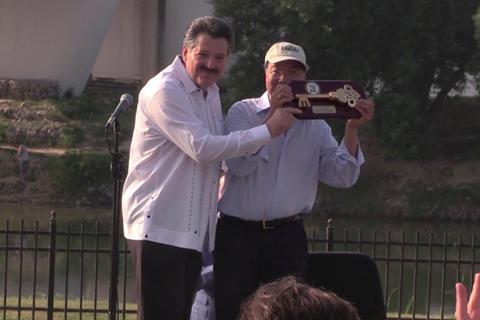 Making a point about global unity, on Saturday morning Yo-Yo Ma played Bach's Unaccompanied Cello Suite No 1 at the Juarez-Lincoln International Bridge, which connects the cities of Laredo inTexas and Nuevo Laredo in Mexico.
As well as forming part of his Bach Project tour, in which he performs in 36 locations around the world, Ma's appearance was planned as part of a Day of Action, a joint event involving Laredo and Nuevo Laredo to celebrate the cities' connections, with performances on both sides of the border. 'I've lived my life at the border between cultures, between disciplines, between musics, between generations,' Ma told his audience.
'A country is not a hotel, and it is not full,' he continued, in reference to recent comments President Trump has made on border security, in which the President declared America to be 'full.'
After the performance Laredo Mayor Pete Saenz presented Ma with a key to the city.
Ma's next stop on his Bach Project tour is Lima in Peru on 30 April. He will also perform at Chicago, Illinois; Athens, Greece; and Christ Church in New Zealand.