Charlotte Moseley has created a booming business making and selling a variety of clothes for dogs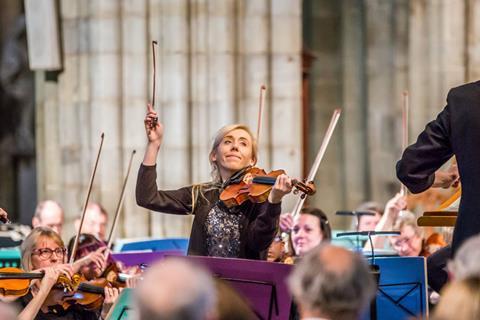 A violinist who saw all her work cancelled due to Covid-19 has found entrepreneurial success, making clothes for pet dogs.
When Charlotte Moseley graduated from the Royal Academy of Music in 2018, she quickly filled up her diary with concerts right through until 2022. But, like many musicians, the 28-year-old violinist found her diary emptied after the lockdown was announced in March 2020. 'I did my last concert on March 17 and then everything was cancelled - in just one day I lost all my work for the next six months,' she told the Birmingham Mail.
However, the violinist - who among other roles, had co-led the English Symphony Orchestra - found success elsewhere after one of her two long-haired miniature dachshunds, Teddy, fell into a muddy pond.
'[Teddy] completely ruined his jumper, so I thought right, rather than buy a new one I'll make one,' she said. 'I already had the set-up because, as a hobby, I'd been making concert clothes for classical musicians. I made Teddy a new coat, thought it was cute, so put a picture of him wearing it on my Facebook page and people started messaging me, asking me to make them one.'
Read London-based concertmaster practises and composes music during shifts as an Uber driver
Soon Moseley was making a variety of clothes for dogs, notching up 150 orders when she started selling them on the online store Etsy. Eventually the business did so well that she had to rent units and employed three local seamstresses who had lost their work during the pandemic.
Having expanded her range, she now also sells items for humans - make-up bags, laptop cases, card holders, hair scrunchies and washbags - as well as coats, jumpers, crate covers and leads.