Police deploy pepper spray and foam munitions in what had been intended as a peaceful musical protest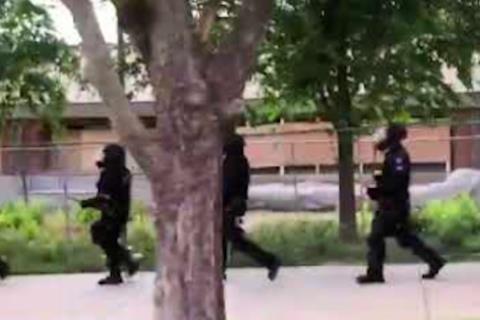 What had been intended as a peaceful protest from string players in Aurora's City Center Park in Colorado, over the death of Elijah McClain, was interrupted by police in riot gear, deploying pepper spray and foam munitions last Saturday.
McClain, a 23-year-old massage therapist who had taught himself to play the violin, was stopped by police while walking home from a convenience store last August in Aurora, Colorado - after someone called 911 to report seeing a suspicious person wearing a mask (McClain's sister later told Denver7 news channel that McClain often wore an open-face ski mask because he had anaemia, a blood condition that made him feel cold).
Despite the fact that McClain was unarmed and had committed no crime, the police tackled him and put him in a carotid hold. Paramedics arrived soon after and administered 500 milligrams of a sedative, Ketamine, to calm McClain down. Less than a week later, McClain died of a cardiac arrest. However Colorado District Attorney Dave Young said that he could not prove beyond reasonable doubt that the officers' actions caused McClain's death, and that charges against them could therefore not be pressed.
Read: 18-year-old cellist shot dead in Philadelphia
Protests last Saturday had begun around 1pm. At about 2.45 pm, thousands of protesters began marching west on East Alameda Avenue before turning onto Interstate 225 and temporarily closing down the highway in both directions. Police arrived just as the violin vigil was about to begin at 8:30 p.m. Footage shows them arriving in riot gear to the background sounds of Pachelbel's Canon.
In a tweet, police said they deployed pepper spray after protesters threw rocks and bottles at officers and attempted to further break down a barricade separating the crowd from Aurora police headquarters. Officers also fired at least four rounds of 40mm foam projectiles at protestors as officials attempted to clear the lawn in front of city hall, according to a department spokesperson. According to the Aurora Sentinel, officials are still reviewing video footage of the event to confirm exactly how many munitions were fired.