Milwaukee based chamber group is changing both viola and cello, while also ending its University of Wisconsin residency after 55 seasons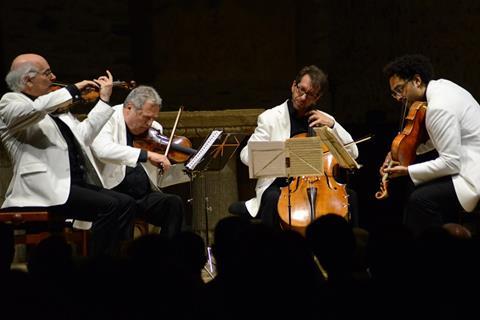 The Fine Arts Quartet is drawing to the end of a 55-year residency at the University of Wisconsin-Milwaukee, with its final concerts as part of the arrangement taking place at the Helene Zelazo Center for the Performing Arts on 27 and 28 January.
At the same juncture, its current violist Juan-Miguel Hernandez and cellist Robert Cohen will be leaving the group, and will be replaced by Gil Sharon and Niklas Schmidt respectively. 'As the legendary FAQ celebrates its 72nd anniversary, violinists Ralph Evans and Efim Boico, who have performed together for 35 years, are thrilled by the incoming new members' positive energy, enthusiasm, and dedication,' the quartet's management told The Strad.
The incoming musicians are both experienced chamber specialists: Gil Sharon, as a violinist, founded and lead the Sharon Quartet and Netherlands-based Amati Ensemble, while Niklas Schmidt was a founder member of the Trio Fontenay.
Ralph Evans is only the second leader in the Fine Arts Quartet's history, taking over from founding first violinist Leonard Sorkin in 1982, just a year before Efim Boico joined as the group's fourth second violin. Schmidt joins as the quartet's fourth cellist, while the viola chair has seen a lot more movement, with Sharon as the eleventh holder.
'Upcoming events with the new members include a European tour in the summer of 2018, concerts in the San Miguel de Allende Festival in Mexico, and the International Mendelssohn Festival in Hamburg, and a new recording, the quartet's 16th for the Naxos label,' the quartet's statement continues. 'The FAQ has recorded over 200 works, with their latest, a recording of Mozart, due to be released by Naxos in September, 2018.'
The departing members Hernandez and Cohen have said they intend to continue working together, discussing on Milwaukee public radio station WUWM programme On That Note their decision to leave the FAQ. Cohen said: 'We have been incredibly busy [with the quartet]. It has been full on, and I think we both feel that we need some space to explore other things now … We're both doing our own thing and coming back pretty frequently to meet and work together.'
Hernandez, who was born in Canada, intends to move to the UK in due course where he has recently taken up a post at the Royal Academy of Music in London, where Cohen, who is British, has held a professorship since 2010.
The Fine Arts Quartet's final concerts of its UW-Milwaukee residency are free to attend – for details click here