The grand final will take place on 8 February with each finalist performing a concerto with the Singapore Symphony Orchestra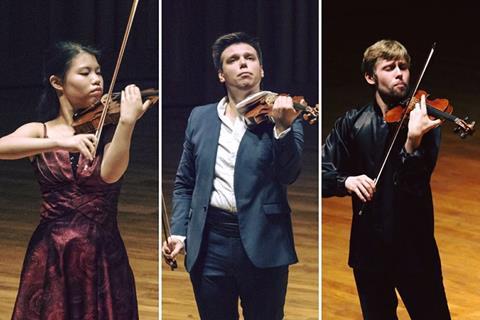 The Singapore International Violin Competition has announced its three finalists, Chisa Kitagawa, Sergei Dogadin and Oleksandr Korniev.
The competition winner will receive a first prize of $50,000, international performance opportunities and a three-year instrument loan from the collection of Mr & Mrs Rin Kei Mei.
The competition, which began with 30 competitors in its first round on 28 January at the Yong Siew Toh Conservatory Concert Hall, brought six musicians through to the Victoria Concert Hall on 5 and 6 February, and has now narrowed down to three for the grand final and awards ceremony at the Esplanade Concert Hall with the Singapore Symphony Orchestra on 8 February.
Chisa Kitagawa, from Japan, already has a number of competition wins under her belt. She is currently studying at the Tokyo National University of the Arts with jury member Takashi Shimizu, and has chosen to perform the Sibelius concerto in the final.
Also playing the Sibelius is Oleksandr Korniev, from Ukraine. He is an alumnus of the Kiev National Music Academy and the Yong Siew Toh Conservatory of Music, where he studied with competition jury chair Qian Zhou. He was also a semifinalist in the previous edition of the competition, in 2015.
Sergei Dogadin, from Russia, has significant previous compeition successes, including at the 2011 Tchaikovsky Competition and 2015 Joseph Joachim Competition, Hannover. He is currently studying at the Music and Arts University in Vienna with Boris Kuschnir, also a jury member. He will perform the Tchaikovsky violin concerto.
The Jury is chaired by Qian Zhou (non voting) and comprises Mauricio Fuks, Kam Ning, Kim Nam Yun, Boris Kuschnir, Silvia Marcovici, Paul Roczek, David Takeno, Victor Tretiakov and Takashi Shimizu.
All competition rounds are available to watch – and live streamed – at www.singaporeviolincompetition.com/live-stream