The award-winning Belcea Quartet reflect on 25 years as a group and their work guiding and inspiring the next generation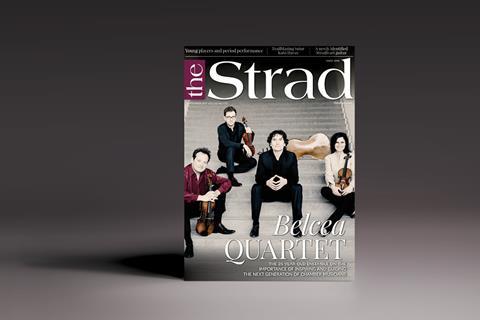 Expert encouragement in their early years helped turn the Belcea Quartet into one of today's most formidable chamber ensembles. Twenty-five years after they started out, they talk to The Strad about passing on their experience to the next generation – as well as continuing to gain knowledge themselves.
We report on a trend of young musicians adopting techniques usually associated with historically informed playing to broaden their tonal palette; talk to British violinist Rodney Friend about the evolution of the ideal left-hand position; and collect tributes from friends and colleagues of the pioneering violin pedagogue Kató Havas, whose New Approach had a seismic effect on string teaching in the 1960s. Plus, in our Session Report, Christian Tetzlaff explains why he feels his second recording of Beethoven's Violin Concerto, 13 years after his first, is closer to what the composer wanted.
Focusing onasymmetric instruments, we discover how innovative new designs can affect an instrument's weight, ergonomics and acoustic potential, as well as provide visual interest; we investigate a recently identified sixth example of a Stradivari guitar; and in our preview of the 2020 Strad Calendar we take a look at some highlights from the Chimei Museum's unparalleled collection of stringed instruments.
In our regular sections:
Our monthly Masterclass is from violinist Esther Yoo on the third movement of Mendelssohn's Violin Concerto; an introduction to Rodney Friend's method for practising in 5ths in Technique; French violinist Renaud Capuçon tells us his Life Lessons; plus Salvatore Accardo on his relationship with Beethoven's Violin Concerto in Sentimental Work. Our Postcards this issue come from our correspondents at the Sendai International Violin Competition and the Bravo! Vail Music Festival.
In Focus features a c.1930 violin by Ignacio Fleta; Gabriel Reinhold explains his asymmetric method of neck shaping in Trade Secrets; My Space features the workshop of Zurich luthier Julia van der Waerden; and in Making Matters we ask how luthiers can keep their health and wellbeing in order.
We also bring you news of the latest competitions, products and auctions, and comprehensive reviews of concerts, CDs and books.
Subscribers can access the entire issue online here
In our bumper 136-page digital edition…
View more photos, including angles and close-ups, of this month's In Focus instrument, a c.1930 violin by the talented and little-known Spanish luthier Ignacio Fleta
See how five luthiers collaborated on a left-handed cello at this year's Festival de La Grange de Meslay
More weird and wonderful asymmetric instruments from te Malta international Violin Making Competition, including works by Andras Imre, Bogdan Sikora and Michał Różak.
Pictures of every prizewinner and the jury at the Sendai International Violin Competition
Hear clips from Christian Tetzlaff's latest release, the Beethoven and Sibelius violin concertos, in Session Report
A sneak preview of The Strad Calendar 2020
More views of this month's My Space workshop, belonging to Zurich-based luthier Julia van der Waerden
And of course, clips from the three recordings designated with the enticing epithet: 'The Strad Recommends'
The digital magazine and print edition are on sale now
Do YOU have something to say about the new issue – or about the strings world generally? Send letters to the editor at thestrad@thestrad.com.