The new centre will be dedicated to higher education, research, composition, production, management and innovation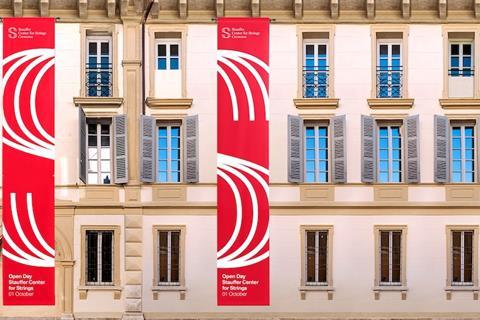 Following a difficult year for Cremona, which was hit hard by the Coronavirus crisis, the violin-making capital of the world is to become the site of a new postgraduate academy.
The Stauffer Center for Strings, which opens in October, will be the country's first international music centre for higher education, research, composition, production, management and innovation, entirely dedicated to stringed instruments.
Based in the Palazzo Stradiotti (renamed Palazzo Stauffer) - an iconic seventeenth-century building in the centre of Cremona - it will include creative and innovation departments, an intimate concert hall, a series of study rooms and classrooms, a recording studio, a multimedia library, a cafeteria, guesthouse and garden. Pininfarina Architecture, which undertook the design, have also incorporated the city's pre-existing Stauffer Academy (founded in 1985) and Stauffer Labs.
Teachers will be drawn from academic institutions around the world, as well as the teaching staff of the Stauffer Academy, which include Salvatore Accardo (violin), Bruno Giuranna (viola), Antonio Meneses (cello), Franco Petracchi (double bass) and the Quartetto di Cremona. All programmes can be accessed through full scholarships and the programme for the 2021/22 academic year will soon be announced on the new Stauffer Centre website.
Read Innovative solutions: Postcard from Cremona
Read Quartetto di Cremona: Italian Postcards
Watch Cremona in lockdown
The Stauffer Center's inauguration will be held on Friday 1 October 2021, with an Open Day event.
'Excellence, internationality, innovation and sustainability: these are the guiding principles on which we founded the Stauffer Center,' says Paolo Petrocelli, general manager of the nascent centre and of the Stauffer Academy.
'With the creation of the Stauffer Center, we are writing a new, important page in the history of our institution and of the city of Cremona,' declared Alessandro Tantardini, President of the Stauffer Foundation, one of the main Italian private institutions for the promotion of musical culture. 'In such a difficult and uncertain phase, we are taking our commitment to promoting culture, art and music in support of young people and their future to a new level with courage and conviction.'