Beethoven Bartók Now will be launching in Camberwell on 17 December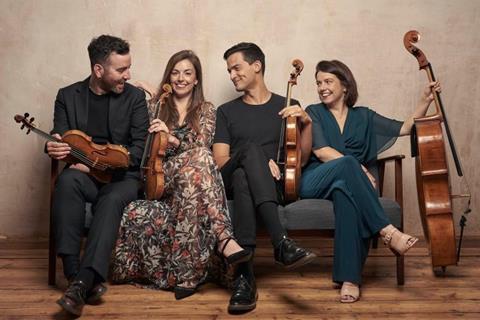 The Solem Quartet is to launch Beethoven Bartók Now, a series of concerts bringing together the late quartets of Beethoven and the quartets of Béla Bartók, re imagined with music from contemporary composers. Beethoven Bartók Now will also involve a variety of digital content and educational activity, aimed at both seasoned and new audiences.
The first free online workshop for composers will be held 28 January and details about how to sign up are here.
In conjunction with this series, the quartet will also be launching a Call for Scores early in 2021 which will result in the winner receiving a paid commission and performance in the series of a new work to feature alongside Beethoven op. 131 and Bartók's first quartet.
Watch: Solem Quartet performs Bill Withers' Lovely Day from Lockdown
Beethoven Bartók Now will be launching with the first concert on 17 December in Camberwell with 'Night Music' - a socially-distanced performance featuring Bartók 5, Beethoven op.130 and a new work by Aaron Parker. For tickets and more information click here.