Concert violinist and beloved pedagogue remembered for her breadth of experience and enthusiam for teaching from international masterclasses to her picture-book violin methods for absolute beginners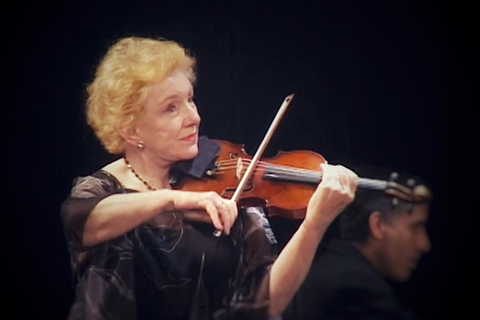 Shirley Givens, a faculty member of the Juilliard School, Mannes School of Music, and Peabody Institute of Johns Hopkins University (Emerita) passed away peacefully at her home on 10 January at the age of 87 after a lingering illness.
Born in Canton, Ohio, her concert debut was at age 11 playing the Mendelssohn Concerto with the Canton Symphony Orchestra. Later she studied at the Juilliard School with Ivan Galamian and the original Juilliard String Quartet.
She became quite prominent through nationwide appearances on TV, and a Command Performance at the White House for President Eisenhower.
Her playing and teaching brought her to many of the great international schools and festivals, where she performed and gave masterclasses. These included the Yale School of Music Sanford Fellowship; the Eastman School of Music; SUNY Purchase; Aguascalientes (Mexico); AUSTA Celebration in Australia; Victoria (Canada) International Music Festival; Festival Casals (Puerto Rico); the École Americaine, Fontainebleau (France); the Heifetz Institute; InterHarmony Festivals (Germany, Italy); and the Augustus Juilliard Centennial Celebration. She was a long-time faculty member at the Aspen Music Festival, also director of the first Aspen Festival String Workshop with Dorothy DeLay, Itzhak Perlman and Isaac Stern participating.
In her teaching, Givens was known for building a firm technical and musical foundation through efficient and well-organised practice methods. She broadened Galamian's bow technique to emphasise tone, nuance, and creative use of color by her students. She often took a theatrical approach, using colourful imagery and wild analogies to enlarge the student's expressive scope.
Givens' numerous students who went on to illustrious professional careers include Pamela Frank, Joseph Lin, Joseph Swensen and David Kim, now Philadelphia Orchestra concertmaster. Her belief that teaching young children could only be effective if it was engaging and fun led her to create a lasting legacy with the 24-volume Adventures in Violinland series, which she illustrated as well as writing. Indeed her talents as a graphic artist saw her produce numerous oil paintings, concert posters and musical cartoons over the years.
A lifetime as a musician and communicator was recognised by the MacDowell Special Award for Excellence in Music, the President McKinley Ohio Wall of Fame and the US Presidential Scholar Teacher Recognition Award.
Givens is survived by her husband of 63 years, concert cellist Harry Wimmer, children Tiana and Kevin and grandchildren Alice and Malcolm. A memorial celebration is being planned for the next month or two.
The Family has just established The Shirley Givens Fellowship through the International Chamber Orchestra of Puerto Rico (ICOPR) which brings together young artists to perform and educate underserved communities throughout the island. Tax-deductible donations can be made online at: http://internationalchamberorchestrapr.org/donate/; please note 'Shirley Givens Fellowship' in the memo area of the form.
The Strad is grateful to Tiana Wimmer for providing the text for this obituary