Violist Kristen Linfante, violinist Jennifer Ross and bassoonist Juan de Gomar will not be invited to perform with the festival orchestra next year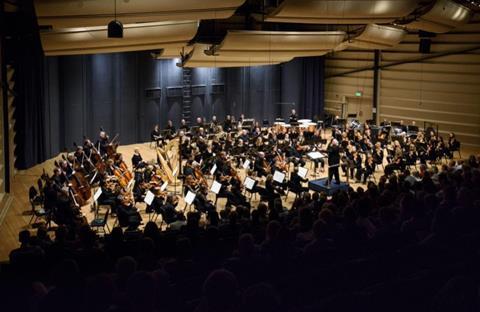 Photo © Robert Kusel
Musicians of the Grand Teton Music Festival (GTMF) have launched an online petition calling for the reinstatement of three festival orchestra players who will not be invited to perform in future seasons by the festival's management.
A press release issued by the GTMF Players' Committee, which launched the campaign, names the three musicians as former Pittsburgh Symphony Orchestra principal second violinist Jennifer Ross, Apollo's Fire Baroque Orchestra principal violist Kristen Linfante and Atlanta Symphony Orchestra bassoonist and contrabassoonist Juan de Gomar. The latter two musicians serve on the GTMF orchstra's Players' Committee and all three have a long association with the festival.
The press release goes on to state that GTMF informed the musicians they would not be invited back on grounds of 'comportment' and 'disruptive behavior' following concerns raised by the three 'about recent changes in the artistic direction of the organisation', placing greater emphasis on 'single-concert guest artists' and less focus on its 'internationally recognised orchestra.'
In response GTMF president and CEO Andrew Palmer Todd told The Strad that GTMF musicians are independent contractors and invited to perform on a yearly basis.
'The festival is committed to providing a safe and professional workplace for all its musicians and staff, and we have in place a number of checks and balances to ensure that decisions are made for the appropriate reason,' he said.
'For 60 years our orchestra has been an invitation-only ensemble, with invitations issued each fall. This is one of the most unique aspects of our organisation and ensures a broad participation and a very exciting cross section of performers.
'Over the last five or six years, the festival has certainly changed and grown, and positively so. We can now say very proudly that artists such as Renée Fleming, Joshua Bell and Yo-Yo Ma come to perform at our festival and that's wonderful for the organisation, its donors and not least the audience.
'But at the core of the festival continues to be its orchestra. The GTMF orchestra performed 15 concerts this year and will do so in 2020 and in 2021. I recognise that the addition of higher profile artists can seem new, but their appearances have been very positive experineces for all of the constituents we serve. We remain very proudly a classical music festival first and foremost.'