Timothy Lees, who has been treated for condition since 2016, will remain a member of the orchestra but relinquishes the front desk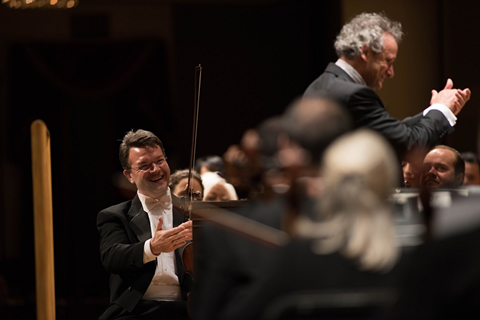 The Cincinnati Symphony Orchestra has announced that its concertmaster Timothy Lees will be stepping down at the end of this concert season, after 20 years of service.
Lees has been suffering with a recurring nerve damage complaint affecting the fingers of his left hand since 2016, and has most recently been on leave from the orchestra since December 2017.
'Mr Lees has been on intermittent leave since the condition first arose in April of 2016, and though he was able to perform for the Orchestra's tour to Asia in March of 2017 and again for the re-opening of the renovated Cincinnati Music Hall in October of last year, persisting symptoms resulted in his going back on leave in December,' the announcement reads.
'I continue to work hard, receive treatments and remain committed to my craft, the Cincinnati Symphony Orchestra and the community we serve,' Lees said.
'While the timeline for my complete recovery is undetermined at this point, I look forward to returning to the Music Hall stage as a member of the CSO's first violin section in the future. Given the important leadership role of the Concertmaster week in and week out coupled with these ongoing medical issues, I have made the decision to relinquish that title.
'After two decades, I am truly honored to be named Concertmaster Emeritus.'
'Tim is a wonderful musician and has played an integral role in Cincinnati's musical life for 20 years,' said CSO music director Louis Langrée.
'We all are grateful to him for his legacy as Concertmaster of the Cincinnati Symphony Orchestra and look forward to welcoming him back on stage as Concertmaster Emeritus in the first violin section.'
Read: Tips for touring musicians - by Cincinnati Symphony concertmaster Timothy Lees