The 'Jaws' and 'Star Wars' composer was due to conduct his own music with the London Symphony Orchestra at the Royal Albert Hall tomorrow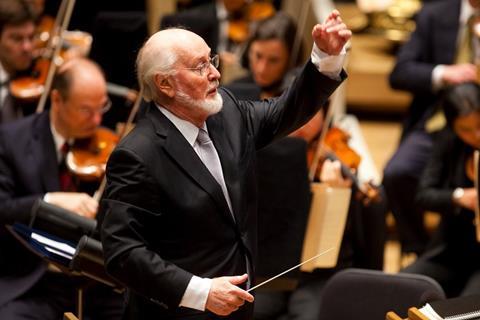 John Williams, probably Hollywood's most popular and admired living composer, has withdrawn from a concert celebration of his music due to 'a last-minute illness'.
The concert at the Royal Albert Hall, for which the 86-year-old composer of film scores including 'Jaws', the 'Star Wars' series, 'Schindler's List' and 'Indiana Jones' was due to conduct the London Symphony Orchestra, will go ahead with Belgian composer/conductor Dirk Brossé.
Brossé has previously worked with Willams, including as conductor of the Star Wars in Concert World Tour.
According to an announcement by the Albert Hall, Williams travelled to London for the concert, but was taken ill.
A statement from Williams' management said:
'John is so sorry that an illness prevents him from conducting Friday's concert, and he's grateful to his friend Maestro Dirk Brossé for taking the podium in his place. He so wishes he could be with everyone, and the knowledge that 5,000 of his friends will be joining together to celebrate his music is a great comfort to him as he recovers. He wishes everyone a very joyous evening of music.'