Wijzenbeek, whose students included Janine Jansen, was celebrated for her work with young musicians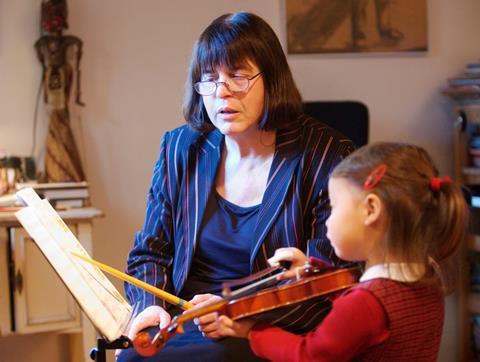 Dutch violinist and pedagogue Coosje Wijzenbeek has died at the age of 72. She was celebrated in the Netherlands and around the world for her work with young violinists, many of whom have gone on to prominent international careers.
Wijzenbeek was born to a musical family in Hilversum, Netherlands, on 18 April 1948. She studied first with Frits Knol in Utrecht and then in Amsterdam with Davina van Wely, a former assistant to Oskar Back. After graduation, Wijzenbeek made several recordings with early music group Studio Laren and joined the Netherlands Radio Philharmonic Orchestra but left after a year, later describing herself as 'not compliant enough' for orchestral life.
She soon turned to teaching and was appointed to positions at conservatories in Amsterdam and The Hague. But it was with Fancy Fiddlers, an orchestra for young string players, that Wijzenbeek was most closely associated. The group was established in 1984 to provide tuition and ensemble playing experience for violinists and cellists aged 6 to 19, who would come for weekly lessons at Wijzenbeek's home in Hilversum. She also taught at the Sweelinck Academy, the Dutch national programme for talented young musicians.
Watch Janine Jansen's musical upbringing
Read Ask the teacher – Coosje Wijzenbeek
Watch Janine Jansen plays Sibelius Violin Concerto
Wijzenbeek's students included violinists Janine Jansen, Noa Wildschut and Rosanne Philippens. Speaking to Dutch newspaper De Volkskrant, Philippens said: 'We are a kind of family. I feel an invisible connection with them. Coosje taught us professionalism and loyalty at a young age, which turned out to be extremely valuable.'
Later in her career, Wijzenbeek also gave masterclasses, served on competition juries and taught at the Lichtenstein International Music Academy. 'My philosophy of teaching is quite simple: consider the individual player in terms of capacity and musical needs, and grow from there,' she told The Strad in 2012. 'If you are faithful to that approach everything seems to fall into place, whether you are dealing with the greatest talent or an average student.'