A Boston-area music shop commissioned six artists to decorate violins in support of Breast Cancer Awareness Month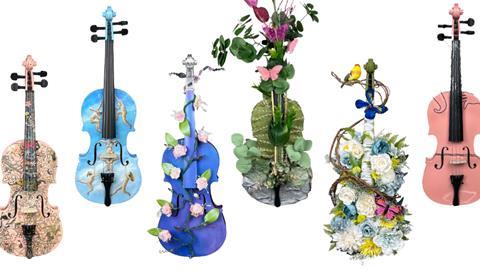 Read more news articles here
In honour of breast cancer survivors and to mark Breast Cancer Awareness Month, Johnson String Instrument, a music shop based in Newtown, Massachusetts, US, will be exhibiting six instruments decorated by local artists. As part of the Heart Strings Violin Project, the shop provided the artists with violins and asked them to decorate the instruments with their own or a loved one's experience of breast cancer in mind. They had six weeks to come up with their designs.
The final results are on exhibition at the Johnson String Instrument store in Newton Upper Falls and will be available to buy through an online silent auction until the end of October. All proceeds will then be donated to the Breast Cancer Research Fund.
The participating local artists include Keith Maddy, Yolanda Mazzoni, Regina Martine, Michael Sellers, Annmarie Gallivan and Brian Murphy. Their designs range from ornate floral creations to hand-painted illustrations.
You can find out more about the silent auction here.