BA apologises for uninformed gate agent after pilot steps in to allow musicians to board with their instruments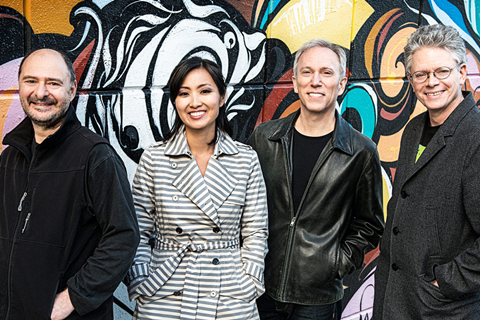 The Kronos Quartet posted on Twitter last week that they had run into problems while boarding their flight to New York from London Heathrow. The four internationally touring musicians were in danger of missing the flight until the pilot was consulted and allowed them to board, according to the group's management.
Now British Airways has apologised and reiterated its policy to accept violins and violas as carry-on luggage.
Despite the airline rewording its policy late last year to clarify its hand luggage size exception in favour of small instrument players, it appears the Kronos musicians were faced with an uninformed gate agent, who insisted the rules had changed.
'The explanation by the gate agent was that the violin and viola cases did not meet the standard luggage size,' a member of the quartet's management team told The Strad.
'After the quartet explained that BA makes exceptions for small instruments like violas and violin (and that they had flown with their instruments as carry-ons on three other BA legs – NYC to Heathrow, Heathrow to Abu Dhabi, and back to London – with their instruments on this trip), they were not allowed.
'They were told they'd have to buy extra seats, as we had for the cello. When the quartet members said they would, they were told they cannot. A manager was eventually involved and made a number of calls, but the musicians were still not allowed to board with their cases.'
Eventually, as the flight was about to close and the quartet had begun to look for alternative flights 'after an hour of very upsetting exchanges with multiple personnel', a staff member on the flight spoke with the pilot, 'who said he had already cleared the musicians to board with their cases and was not sure why they were still being held up' according to the quartet's spokesperson.
They boarded to find plenty of empty seats and available overhead bin space, but were still directed to put their instruments in a wardrobe closet at the front of the plane, the Strad was told.
ICYMI: We'l not be flying @British_Airways to our upcoming UK/EU dates & will recommend our collaborators not either. BA must address ongoing confusion re: musical instruments on flights. Pls join us to pledge #MusiciansBoycottBA. @9horsesmusic @TheLittleProms @amcglothlin have.

— Kronos Quartet (@kronosquartet) February 26, 2018
British Airways released the following statement: 'We understand how precious musical instruments are to musicians, and that's why we allow customers travelling with violins or violas to take their instruments on board with them.
'We've apologised to our customers and are glad that they were able to travel as planned with their instruments in the cabin.'
The British Musicians' Union commented: 'We are in in constructive dialogue with BA to find a workable solution for larger instruments. The small instruments policy has been agreed and should not be a problem, so it's unfortunate that this message has not been fully understood by ground handling staff and musicians have been adversely affected. Steps are being taken to rectify the problem, and we welcome BA's proactive engagement to find solutions.'