Japanese farmer Hiroyoshi Utsunomiya wins national contest with his classically inspired vegetable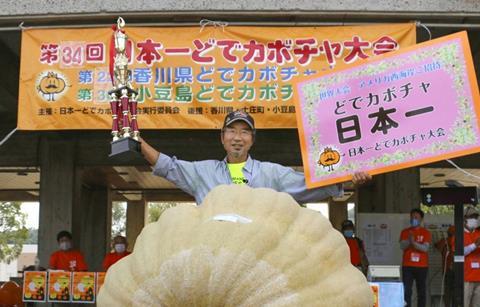 The 34th annual contest to find the heaviest pumpkin in Japan has been won by a vegetable grown to the strains of Mozart. Farmer Hiroyoshi Utsunomiya, from Ehime prefecture on the southern island of Shikoku, won first prize with his 410.3kg specimen, to which he had played Mozart throughout its growing process.
It was the second victory in three years for the 68-year-old, who won in 2018 with a 412.6kg pumpkin that had grown to traditional enka ballad music. 'It shows that what I've been doing is not wrong,' said Utsunomiya.
Second place was taken by a 385kg pumpkin grown by Akira Nishikawa, while Toshiaki Shiraki's 334kg example came third. All three pumpkins were of the Atlantic Giant variety. In total, 51 people took part from nine prefectures around the country.
Read: 10 unusual violins
Watch: Violincopter: how to make a violin soar
Read: The Society of Strange and Ancient Instruments
Watch: Danish orchestra performs while eating world's hottest chilli
Several studies have shown that the playing of music can affect vegetable growth. In the 1950s, Canadian Eugene Canby played Bach's violin sonatas in his plots of wheat, and discovered that his yield increased by 66 per cent. And in 1973 researcher Dorothy Retallack played a single extended F natural to her plants and discovered they grew more healthily than her control group. According to her book The Sound of Music and Plants, those exposed to classical and jazz grew towards the speaker and even entwined themselves around it, whereas plants exposed to 'discordant' rock music grew away from the speakers and showed signs similar to overwatering.
Photo: Kyodo