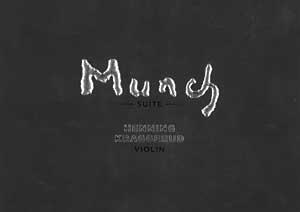 The Strad Issue: January 2013
Description: An appealing presentation of modern music and fine art
Musicians: Henning Kraggerud (violin)
Composer: Müller, Kernis, Seabourne, Paus, Kleiberg, Kukal, Hakim, Firsova, Martinuson, Kahane, Tzanou, Nelson, Ková?, Thommessen & Petitgirard
The organisers of Norway's Vestfold International Festival in 2010 commissioned 15 new solo violin pieces for Henning Kraggerud, each inspired by a painting by Edvard Munch in an exhibition happening at the same time, and premiered by Kraggerud alongside the artworks themselves. This sumptuously produced package is a fittingly grand documentation of that project, combining a CD recording of the pieces with 15 cards, each showing an individual painting and a composer's note on their piece inspired by it.
The styles and approaches of the 15 miniatures are sometimes jarringly contrasting – from the scampering simplicity of Aaron Jay Kernis's A Dance of Life to the more abstract forms and colours of Rolf Martinuson's Landscape. But what holds it all together are Kraggerud's astonishingly assured playing and remarkably vivid musical personality. Indeed, his rhapsodic, fantastical, sometimes brooding style seems the ideal match for Munch's heavily symbolic images. He delivers the folk inflections of Fabian Müller's Munch's Träum and Ondr?ej Kukal's Aftenstund with thrilling abandon, and navigates the shifting moods of many of the pieces – notably Athanasia Tzanou's engaging Blick auf das Meer – expertly. Just one niggle: the recording's resonance and long decay occasionally make it hard to hear the minute detail of Kraggerud's fine playing.



David Kettle