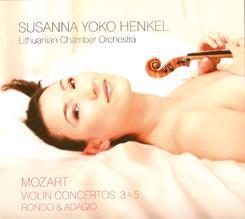 The Strad Issue: January 2012
Description: Freshly reconsidered Mozart from a young German–Japanese violinist
Musicians: Susanna Yoko Henkel (violin) Lithuanian Chamber Orchestra
Composer: Mozart
The weighty orchestral opening to Mozart's Third Concerto here sets the scene for performances that do not spend time looking for supposed period authenticity, but simply play the music with a delightful mix of vivacity, elegance and good humour. Susanna Yoko Henkel has been drawing ecstatic reviews and this disc confirms a fresh, new and young mind working on long-established scores. In her hands the Adagio second movement becomes a slow and graceful dance, with the double bass strongly underpinning the orchestra to accentuate the lilting rhythm. Her opening movement is brisk and the crisp articulation of woodwind and horns adds a pleasing jollity that is renewed in her fast-flowing finale.
Henkel's extended and ultra-quiet first entry in the Fifth Concerto is perhaps just a little precious, but she settles down to a steady tempo and reprises her lilt in the slow movement, where she adds, as she does in no.3, her own effective cadenzas that are appropriately in the composer's style. Her unhurried finale is also very enjoyable, with the Turkish element never exaggerated. The Rondo and Adagio make pleasing encores in a not over-generously filled disc.
Henkel also directs the outstanding Lithuanian Chamber Orchestra. The generally very good sound is just a bit too slanted towards the lower strings.



DAVID DENTON