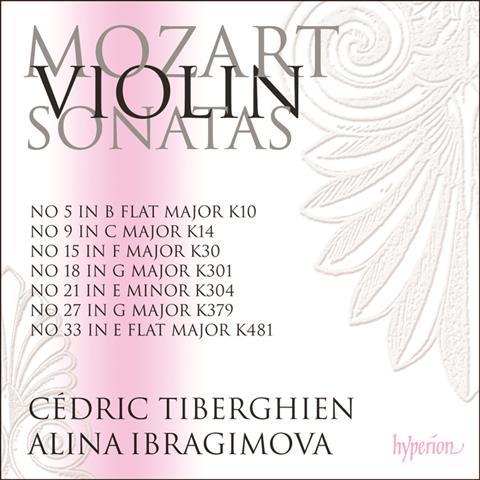 THE STRAD RECOMMENDS
The Strad Issue: August 2016
Description: Seven sonatas demonstrating Mozart's early charm and mature depth
Musicians: Alina Ibragimova (violin) Cédric Tiberghien (piano)
Composer: Mozart
Catalogue number: HYPERION CDA 68091 (2 CDs)
The early sonatas on these CDs, judiciously scattered among their later cousins, all have their delights. Cédric Tiberghien takes the lead here, as he should, since the violin parts are written to be optional, but the partnership is full of entertaining touches, as in the swapping of acciaccaturas in K10 and K14. The carillon minuet in K14 is delicious, with silvery piano and pizzicato violin. All the playing here shows an understanding of period practice.
In the G major Sonata K301, vehement forte passages burst in after a veiled, velvet opening. The articulation of both players is crisp. The Allegro second movement is simple but full of subtle dynamic shading. K481 in E flat major is performed with a generous palette of tone, dynamics and rhythmic flexibility. Their playing flows, forming great satisfying arcs. Most of all, the melodies sing. The players are good at the drama: variation six of the finale switches splendidly between stern and jaunty.
In the G major Sonata K379 their playing is richer, without losing any tonal purity. The Adagio is a glorious cantilena with a tempestuous G minor Allegro to follow. The variations of the finale are a set of finely cut jewels, most of all the delicate Adagio of variation five. There is melancholy sweetness in the E minor Sonata K304, with passages of severity and serenity. The steadily paced second movement is full of sadness, the playing for the most part gentle and delicate. The recorded sound is clear and warm.