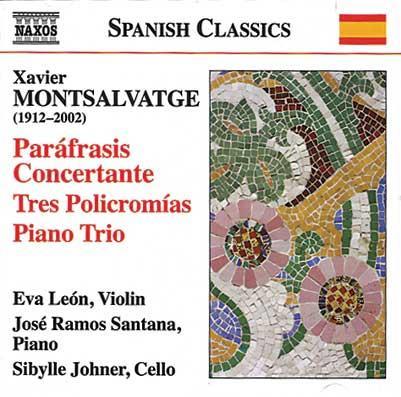 The Strad Issue: November 2014
Description: Welcome exposure for the music of a 20th-century Spanish master
Musicians: Eva León (violin) José Ramos Santana (piano) Sibylle Johner (cello)
Composer: Montsalvatge:
Catalogue Number: NAXOS 8.572621
With over 200 works of his to explore, very few of which are at all well known, Xavier Montsalvatge (1912–2002) has at last found a worthy champion in Naxos. It's been five years since Eva Léon recorded a fine disc of Turina violin sonatas (also Naxos), and she proves no less intuitive with her Spanish compatriot Montsalvatge, whose early violin training facilitated an unusual understanding of the violin's physical parameters.
The opening Paráfrasis concertante requires lightning technical and musical reflexes, as Montsalvatge explores a post-Bartók landscape littered with semantic cross-references to the Blues and jazz (via Ravel's 1928 Sonata). León brings its hurtling juxtapositions to life with unabashed flair and passion, creating a compelling sense of give-and-take with gifted pianist partner José Ramos Santana, even if a shade more ambient warmth would not have gone amiss.
Like so many 20th-century composers, Montsalvatge possessed a chameleon-like creative personality, so much so that one could hardly credit the cantabile radiance of the Lullaby or neo-Classical formulations of the Farnaby theme and variations (played with infectious aplomb by León) as the work of the same man. Finest of all is the Piano Trio, a triumphant fusion of past and present, which León, Santana and cellist Sibylle Johner perform with total commitment and affection.
JULIAN HAYLOCK