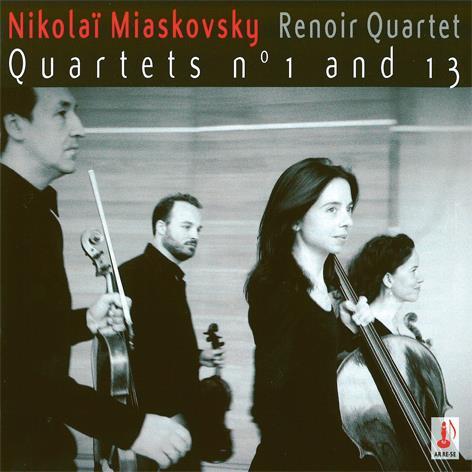 The Strad Issue: January 2010
Musicians: Renoir Quartet
Composer: Miaskovsky
Now that the Taneyev Quartet's trailblazing series of all 13 Miaskovsky string quartets is available on Northern Flowers, collectors can at last gain a sense of this remarkable composer's achievement, second only to Shostakovich in Soviet Russia. That said, this sumptuously engineered first instalment from the Renoir Quartet, coupling the first and last quartets, possesses a warmth and charm that the Taneyev players, for all their outstanding qualities, tend to underplay. This is particularly evident in the 13th Quartet, a work that brims over with first-rate ideas, including the finale's radiant second theme, whose indebtedness to Ravel (by way of Dvo?ák) comes bubbling to the surface in this exemplary reading of what turned out to be Miaskovsky's last completed work.
The Renoir Quartet's highly persuasive combination of technical ease and expressive opulence pays special dividends in the chromatically intensified textures and troubled emotional terrain of no.1 (blindfolded, the uninitiated might well assume this to be the later work). The players capture just the right degree of implied menace in the sonata–rondo finale, while the Blues-orientated musical bookends to the Andante sostenuto third movement sound hauntingly world-weary. Miaskovsky's music can be made to sound emotionally repressed, detached even, but the Renoir Quartet takes us on an emotional journey that reveals a side to his creative personality that is normally hidden from view.



JULIAN HAYLOCK