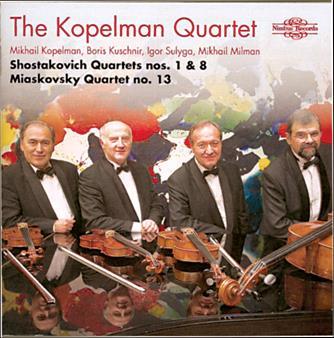 The Strad Issue: January 2008
Musicians: Kopelman Quartet
Composer: Miaskovsky, Shostakovich
Although together only since 2002, the members of this group are all experienced quartet players – Mikhail Kopelman previously led the Borodin and Tokyo ensembles. They give a masterclass in chamber music playing, up to a point, and are well recorded. Sadly, I have to report that they bore me to tears.
Miaskovsky's 13th and last quartet is like a summation of his life's work, a very conservative piece in the Russian tradition but finely crafted and melodically memorable. It is played with consistently beautiful tone and a fair amount of coloristic variation, at tempos that cannot be faulted. But is it not all rather bland? Turn to the 1981 recording by the then-veteran Taneyev Quartet (Russian Disc, part of a cycle) and you hear more tone, more colour, more dynamic range – and above all, more character.
Kopelman and co. are pretty well at home in Shostakovich's First Quartet, throwing in some unobtrusive virtuosity in the last two movements, but I can think of better alternatives.
The ubiquitous Eighth never gets off the ground, well played as it is. The players introduce an element of pedantry, such as in the Allegretto, but then make the error of shortening those stabbing chords in the first Largo – the recording by the Beethoven Quartet (Melodiya), made in the composer's presence soon after the premiere, shows that they should be given full value. Forget all that rubbish about knocks on the door in the night. The autobiographical side of this masterpiece has been much exaggerated.
TULLY POTTER