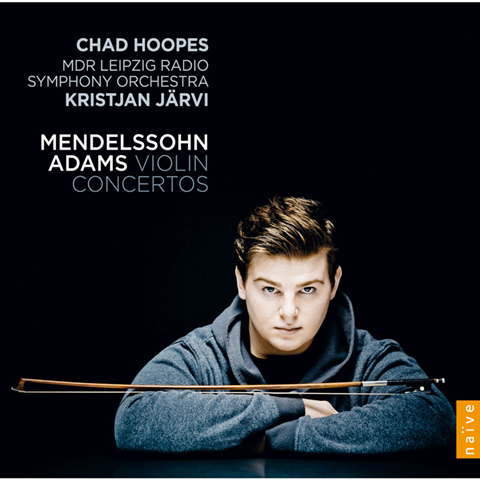 The Strad Issue: January 2014
Description: Key Romantic and modern concertos make for an auspicious CD debut
Musicians: Chad Hoopes (violin) MDR Leipzig Radio Symphony Orchestra/Kristjan Järvi
Composer: Mendelssohn, Adams
Cleveland-trained Chad Hoopes, playing the magnificent 1713 'Cooper' Stradivari, creates the ideal sound world for the Mendelssohn E minor Concerto: lithe, sinewy and pure-toned, activated by a graceful bowing action in tune with the instrument's natural resonances and graced by a fast and narrow vibrato that enhances the magical quality of the composer's sparkling invention. The Leipzig players under Kristjan Järvi follow him every inch of the way with a deft touch ideal for this music, even if the engineering is less than ideally clear and wide-ranging.
In the John Adams Concerto, if Gidon Kremer (Nonesuch) creates a strong air of modernity with his microcosmically inflected probings, Robert McDuffie (Telarc) an impassioned spontaneity reminiscent of 1960s Isaac Stern and Chloë Hanslip (Naxos) glorious cantabile brilliance of sophisticated allure, Hoopes imparts an air of chaste innocence to this blazingly inventive score, discovering in the opening movement a rhythmic swing with an indisputably American accent. He also makes clear the startling parallels between the finale's moto-perpetuo figurations and the motoric drive of the Barber Concerto's last movement. All in all a fine debut album that firmly establishes the impressive playing credentials of this gifted young violinist.



JULIAN HAYLOCK