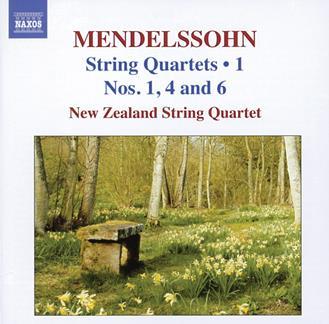 The Strad Issue: January 2008
Musicians: New Zealand Quartet
Composer: Mendelssohn
Of this group, only violist Gillian Ansell was born in New Zealand. The others, two Americans and a Canadian, have taken the country's citizenship and the ensemble has been in its present form since 1994. This well-filled disc, first of a Mendelssohn cycle, shows that it must make a big contribution down under.
The leader has an appealing tone and all three interpretations are well shaped. The group agrees very closely on tempos with the Pacifica (Cedille) and Henschel (Arte Nova), who are my recommendations for complete Mendelssohn sets.
Unfortunately for the New Zealanders, there are strikes against them that make it impossible to accept their readings as 'best in show'. The most egregious problem concerns the cello: in quite a roomy acoustic, its lower register is swallowed up much of the time. This is the fault of the recording team.
The players' intonation is good but not up to the standard of the Pacifica or Henschel; and I feel that the interpretation of the late F minor Quartet, while it realises the angst and sorrow felt by the composer after his sister Fanny's death, does not rise to the full level of intensity demanded by the music.
In the early E flat major Quartet, I sense a certain amount of sentimentality in the treatment of both outer movements. There is always a narrow line to be walked between showing emotion and letting it slop over; and I think the New Zealanders cross it occasionally. The fastidious Mendelssohn would not approve.
TULLY POTTER