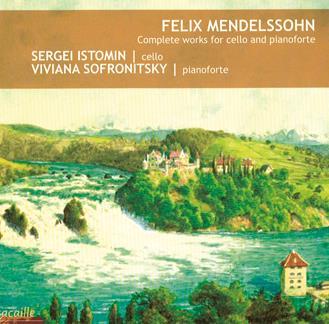 The Strad Issue: January 2008
Musicians: Sergei Istomin (cello) Viviana Sofronitsky (piano)
Composer: Mendelssohn
Although Mendelssohn's cello works are hardly uncharted territory this new release of his complete oeuvre for cello and piano has the selling-point of using a reproduction Conrad Graf fortepiano of c1819. And it turns out to be more than a gimmick, since his compositions frequently demand a crystalline brilliance from the piano yet more often than not pianists offer a rather full and heavy accompaniment on modern pianos that dogs the music, nowhere more so than in the virtuosic Variations concertantes. Here, however, the clarity of texture is welcome, with both Sergei Istomin and Viviana Sofronitsky making the most of what is perhaps less than sparkling writing.
Mendelssohn's Second Sonata is a far superior work in terms of striking ideas, though no less challenging, and the nimble finger-work demanded from the cello in the opening movement is dashed off with musical élan, while both players create a convincing chorale in the Adagio. Rubato is pretty minimal and never indulgent.
This approach tends to emphasise the more Classical aspects of Mendelssohn's style, which frankly suits the First Sonata where some of the phrases can become four-square. Here tempos are on the brisk side and the impetus is rarely allowed to falter. It proves that in the right hands this early sonata's charming melodies can be delightfully persuasive.
Added to the programme are the evergreen Lied ohne Worte and, more intriguingly, the incomplete Albumblatt Assai tranquillo, which after a promising start sadly peters out. Nevertheless this incomplete sketch adds to the overall picture. The clear recording is a bonus.
Joanne Talbot