Taking the first movement, the German violist shows why it is so important to study the original clarinet score of this little-heard work, before approaching the viola version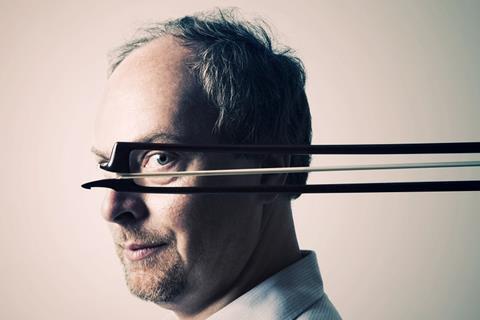 To see the marked-up sheet music, published in association with Henle Verlag, download the Strad's November 2017 issue. Download now on desktop computer or via the The Strad App, or buy the print edition
Few violists play this work; my teacher Hatto Beyerle was one of few viola professors in Europe to teach it. He loved it, and in our class it was something very special. He was friends with Adolf Busch and his family, who were students and colleagues of Reger, so he heard many of Reger's ideas that way. I too had a personal link: I had the pleasure of knowing Reger's last piano student, who died in the late 1990s.
She confirmed what musicologists had told me about interpreting his music: how important it is not to get lost in all his chromaticism and ritardandos. The sonata was originally written for clarinet. In his version for viola, Reger changed the articulation far more than Brahms did when making viola versions of his own clarinet sonatas. Reger was a pianist, but he was always in contact with top performers and pedagogues, and he worked with musicians including Joseph Joachim to create his works for strings. As a result, it became a very different piece.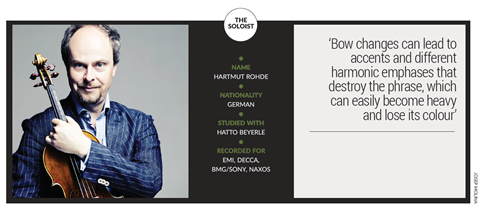 Articulation: viola vs clarinet
I recommend that all students look at the clarinet part to analyse which bowings have been added to suit the character of the viola, and which slurs have been cut only because Reger felt the bow was not long enough to cope with them. For example, the first line of the clarinet part (example 1) is much more legato than the viola part: there are longer phrasings and sometimes the main beats – the first or fourth – fall at the end of a slur. From this we have the idea of an eternal, flying sound in pp with a diminuendo, with the main beats slurred in to avoid accent or release.

In the viola part, the bow changes can lead to accents and different harmonic emphases that destroy the phrase, which can easily become heavy and lose its colour and intimacy. Similarly, in bars 14–15 four sets of agitato triplets fall under one slur in the clarinet part, but are divided into four slurs in the viola version. If we were to look only at the viola version, we might play each new bow with an accent; but the clarinet version clearly shows that we should not accent each of the groups, instead thinking of them as a sequence within one phrase. The same applies to bars 69–70.
It is also important to look at the clarinet part in bars 52–53 (example 2), where the demisemiquavers ( ) are slurred in to the phrase as a singing pick-up. In the viola version they are separate, which could imply a rougher, more articulated feel. Maybe that was Reger's intention, but I think he just wanted to give the viola more power while remaining melodic.

In bar 65, the piano's triplets are marked as marcato in both the clarinet and viola versions, but the clarinet phrase is written legato, whereas the viola part is separate with dots. Here I think it does make more sense to stay with the staccato articulation, because it makes for better dialogue with the piano. I have tried this both ways, and to me a legato does not sound convincing.
If we don't look at the clarinet version, we risk losing half of the soul of this sonata.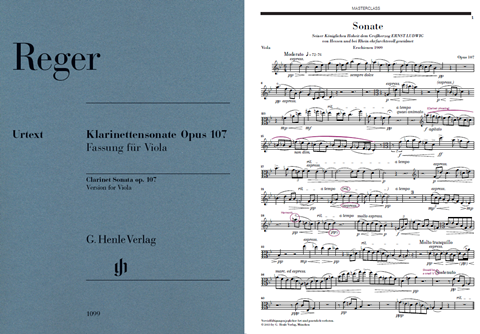 Vibrato
Reger liked there to be a pure resonance to his music, with just a swing in the fingertip and more (but still varied) vibrato reserved for climaxes, appoggiaturas and espressivos. All other expression should come firstly from the bow. He also loved to express certain singing notes using harmonics – as in bars 28 and 84 – and we should respect and enjoy these with care.
Dynamics
In bars 104 and 106, we can see dynamics at the end of each hairpin. When Reger doesn't use these, we can interpret hairpins to be phrasing marks; when he does write them, he wants a diminuendo or crescendo into a new dynamic. This is particularly important here: we must be loud enough at the end of bar 104 to play a subito pp in bar 105, because there is also a register change in the piano part, and together they create a beautiful new colour. Too strong a diminuendo and we take the surprise away.
Rubato and tempo
Reger used to say his music should be played in waves, with a fluctuating rubato. He used this even when he played Mozart (we can hear this on YouTube), which, of course, would make most period players jump out of the window! Rubato means 'stolen time', so we should first of all steal, pushing the tempo on before we pull back again. Make sure this is always in balance, or you will end up in the Tower of London, and it's not funny to be there.
Reger uses many types of ritardando – poco ritardando, ritardando molto, sempre ritardando – and they all mean different things. For him, a poco ritardando means we should slow only slightly, to release the tension; a ritardando is a little more; a sempre ritardando usually shows the end of a major section in the musical architecture. The stringendos and animatos indicate real tempo changes. Even when there are no instructions, use your instincts to highlight harmonic tension, sequences and structure by taking time here and there, but be careful to start speed changes in tempo and work into them, not moving too early or too strongly.
Editorial considerations
Brahms once wrote a letter to Joachim saying that if he used a capital letter for Sostenuto or Tranquillo, he did so to indicate a tempo change. When without capitals, however, he was asking for a change in character. In the Henle edition, the Sostenuto of bar 39 has a capital S; in old editions, this was a small s. Because we have a ritardando and a molto tranquillo in bars 34–35, within moderato, we are already very slow. If we play Sostenuto with a capital S here, we have to slow down even more; and then there's a ritardando in bar 45, and we won't finish until next Christmas! I would argue that this should instead be a small s, as an indication of character rather than tempo.
In bar 122 the Sostenuto with a capital S makes more sense and gives a beautiful variety in character to end the movement: from bar 116 we have (Tempo primo) quasi a tempo, showing a clear thematic return to the development section before slowing into the new Sostenuto tempo, to match the molto tranquillo of bar 112 (it could even be a little slower). This moves us into the quasi adagio in bar 127, which is like a last breath as the energy fades away to end.
Harmony and tempo
Whatever tempo we choose, it is too fast if we can't follow the music's modulations. If the pianist or the violist can't bring out the ring and balance of every harmony, they will lose the beauty of the music, which depends on the harmonic balance of every chord, mostly at a ppp or pp dynamic.
Playing Reger demands a good understanding of harmony. His music is delicate and difficult to play in this respect, particularly for the pianist: there are many multi-voice chords, and it is important to balance them carefully so that they do not overload the music with doubled 5ths, or too many bass notes, so that the 3rds, for example, are inaudible. At the ends of certain bars, such as 119, 120 and 121, it is essential for the pianist to roll the chords in the left hand, rather than play them in blocks, to give them the right colour, with the bass notes as the core of the sound and the treble voices as soaring overtones.
Even excellent pianists risk sounding as though they are playing a grand piano sonata with viola accompaniment in this piece. Perhaps this is why it isn't played often: to do so well requires understanding of harmonic balance and late Romantic taste, and great technical ability.
INTERVIEW BY PAULINE HARDING
To see the marked-up sheet music, published in association with Henle Verlag, download the Strad's November 2017 issue. Download now on desktop computer or via the The Strad App, or buy the print edition
Hear Mozart through the lens of Reger in this recording of his Variations and Fugue in A Major on a theme by Mozart