A preview of the January 2018 issue's Masterclass, which features detailed performance suggestions and marked-up sheet music for the Violin I part by the Kelemen Quartet's leader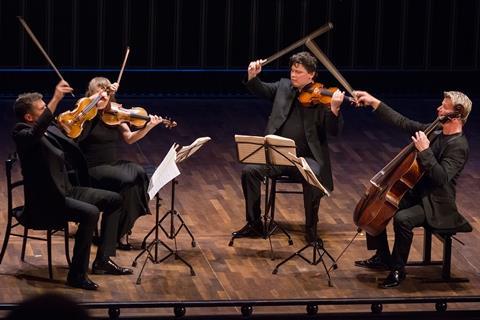 Barnabás Kelemen continues The Strad's marked-up sheet music series in association with Henle Verlag with the first movement of Beethoven's String Quartet Op.59 No.1 – giving bowings, fingerings and ideas for interpretation in our January 2018 issue. Download now on desktop computer or via the The Strad App, or buy the print edition
All four parts of this quartet are challenging. The writing is often pianistic and in places, without the other parts to harmonise the lines, the first violin could almost be playing a scale or etude. Once, when I was practising the first violin part of this quartet, around bar 156, László Fenyő, our cellist, walked in and laughed because he thought I was playing an etude.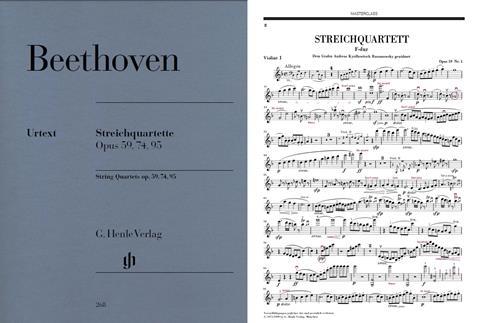 If you learn your scales, arpeggios and etudes well, Beethoven will never be a problem – but you cannot expect Beethoven to teach you how to play scales! You should have been perfecting them for 15 years in every tonality before you even attempt this sort of music. This will give you more flexibility when playing repertoire, as well as a more relaxed, free technique, with rounded fingers and thumbs, power and the ability to vibrate.
If you came to me and played Beethoven without rounded thumbs, I would tell you to go back to scales using a slow bow, then to build up the speed gradually and introduce etudes – usually the Twelve Etudes by Rode. After that, practise the same scales and etudes as fast as you can until you have complete control. Then you can come back to Beethoven.
To read the full Masterclass article by Barnabás Kelemen and see the marked-up sheet music, download The Strad's January 2018 issue on desktop computer or via the The Strad App, or buy the print edition