Second violinist of the Chiaroscuro Quartet, Pablo Hernán Benedí, looks at the first movement of a work filled with secrets, threats, drama and tension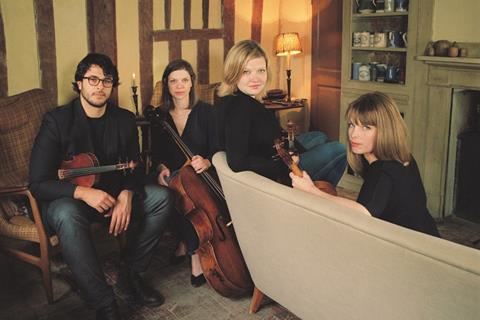 When I joined the Chiaroscuro Quartet almost ten years ago, the first piece we played was Schubert's 'Rosamunde' String Quartet; we then spent almost a year and a half playing mostly Schubert. His music is very powerful for us and to have this full immersion in his language was incredible. After leaving it untouched for a while, we have recently come back to it with more wisdom and a better understanding of how to hold all its tension and strength.
For me there is a fragility in Schubert – a vulnerable sound that has so much power, drama and contrast in it, in a completely personal way. It is very human, and gut strings – which we use in the Chiaroscuro Quartet – allow us to search for those qualities. However, regardless of the tools we use, the most important thing is that we immerse ourselves in the sound world of the piece and the language of the composer.
The beginning
The beginning of 'Death and the Maiden' is an issue for every quartet on earth. What is the curve and balance of the first note? How long should you sustain it, before retaking? If you do a fast retake without too much bow, it must be incredibly powerful: if you do it too early, it can sound too relaxed; if it isn't together and tight, it will lose all its strength. The silence in the second bar is tense and charged, and sharing that feeling is key to the impact of the next entrance.
It's easy to start the movement too fast, because it is so dramatic; but to bring out the rhythmic tightness needed from bar 15, we need a more measured tempo. We've struggled to find unity there, although by keeping an open mind and exploring different ideas, we've been able to develop a communal sense of the piece. The second subject can be more relaxed, at a slower tempo than the opening theme. We've tried everything, and every decision we make changes with the circumstances, such as a different acoustic.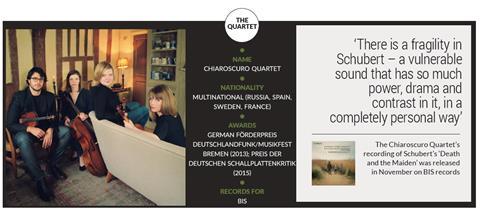 Accents and articulation
Discussions about articulation and accents in Schubert can be never-ending. A staccato mark or a sforzando, for example, does not just have one meaning that can be applied overall. Dots can mean that the sound should be more spoken, or even longer and more meaningful; accents usually mean a release, an opportunity for vibrato and a change of colour. Each can be very different at different times, depending on the harmony and the overall context.
From bar 15, where more threatening thematic material starts to appear, the dots only mean that you need an attack that seems more nervous or excited. It has nothing to do with being 'short' – just highlighted. From bar 176, the accents are almost like up-beats, not rushed, but with direction. We try really hard not to make them sound overstated or heavy.
I love the section from bar 187, but we've struggled to find a style of dot that sounds convincing here: you don't want them to be too active, but you don't want them to sound too relaxed either.
Dynamics
We are always wary of crescendoing too soon: there is more tension when you hold back for longer – for example, from the end of bar 22, with a sudden drop for the subito piano in bar 25. Use a narrower, lighter stroke here, almost in the string. The pianissimo that follows, in bar 29, needs to sound secretive, with higher tension. It should not sound deflated. Another place to avoid becoming too loud too soon is in bar 166, where we have actually marked our parts mezzo forte to prepare for the harmonic and dynamic progression that follows. For the same reason, it's important not to crescendo too early in the passage from bar 187.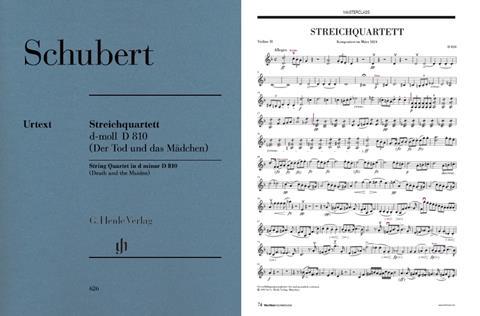 One thing we've worked on a lot in terms of bow distribution is bar 42, which is essentially an up-beat to bar 43. It's played by three of us together and it should not be heavy, so we elongate each sforzando to help it to roll forward – otherwise it can sound aggressive in the worst possible way. I remember my teacher Polina Kotliarskaya always highlighting the importance of 'less is more' to me when I was a teenager. You can get an incredible colour without having to shout. The fortissimos in this movement are tormented, and the pianissimos are incredibly charged.
The second violin really has to fight to be heard from bar 45, against the first violin and viola. For me, to play second violin well you must learn how to be incredibly present, not only in sound but also in intention. You almost have to be ahead, to provide a mattress to hug and carry the other parts, or blend seamlessly depending on the music's demands.
From bar 52, we try to fit in little hairpins, expanding time in bars 54–55 before doing almost a subito pianissimo in bar 56, to capture this falling arch of drifting intention. The second subject, from bar 61, is always problematic: everyone is marked pianissimo, but the main line still has to come out and it's hard to remain faithful to the dynamic. It has to sound easy, and to be incredibly together. I find that real togetherness comes from sharing a strong sense of pulse, breathing together and having lots of awareness and trust.
True awareness comes through incredibly slow, focused practice, which we do very often
Slow practice
The more the Chiaroscuro Quartet develops, the fewer words we need to use when we rehearse. True awareness comes through incredibly slow, focused practice, which we do very often. It helps everything: tuning, phrasing, bow distribution and togetherness.
Our cellist loves to say, 'Let's sloth this,' when we need to practise something slowly, because sloths behave in such an incredibly aware and slow-motion way. This has been very effective for us from, for example, bars 112 and 241, and at the opening. The material at bar 147 is very strange and we've done huge amounts of slow practice here too, to help us understand how the music needs to develop.
Achieving togetherness
There is plenty of material in 'Death and the Maiden' where the different parts play exactly together. Real togetherness is not visual – it can't be, because if you follow visual indications, you will be late in sound and intention. It is a process that will continue to mature as you focus and listen, allowing you to become freer and more genuine in everything you play.
I don't usually write very much on my part, because if you know something very well, the score is just there for a little bit of guidance. Our cellist wants us to learn everything off by heart, and sometimes we do practise that way: it's refreshing not to have barriers, and it makes our listening more acute. We've practised with the lights off many times; we also used to practise back to back, so that we could feel each other's breathing, tension, release and phrasing.
We swap parts very often too, to enhance our reactions and our ear. That's important for tuning, especially when you have to rely on your senses to find new fingerings or a different way of playing something. It is vital to be able to adapt, particularly when using gut strings, which are not always reliable.
When we rehearse, we try to open our awareness as much as possible. By tuning into each other, we can gain absolute freedom. That way we can do everything very differently in performance! In 'Death and the Maiden' I feel that we've really done that: we've taken risks and created something together, with no one out of the boat.
To see the marked-up sheet music, in association with Henle Verlag, download The Strad's November 2018 issue on desktop computer or via the The Strad App, or buy the print edition
INTERVIEW BY PAULINE HARDING