The British violinist takes a look at the second movement of a work filled with Romantic flair, fireworks and colour, and highlights the importance of building a perfect piano-violin partnership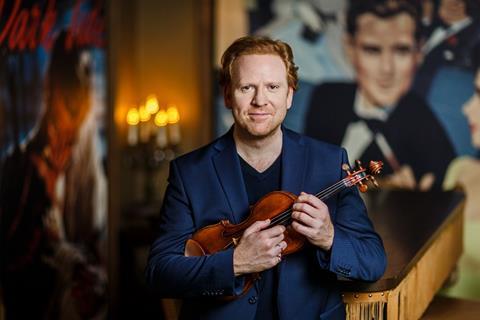 This is a piece on which I worked extensively with Yehudi Menuhin when I was in my teens. One of my earliest memories of hearing it is at the age of ten, at the Menuhin Festival in Gstaad, page turning for Pinchas Zukerman and Marc Neikrug. I was in awe of Zukerman's sound and kept forgetting to turn the page!
I also remember an extraordinary performance by Menuhin and his sister, Hephzibah, in London's Royal Festival Hall. They played it from memory and to this day I've never forgotten the way Hephzibah began that first movement, the magical quality of her colours and her exquisite timing. The opening bars can move me to tears when they are played by a great pianist. When they are not, I feel almost ready to kill!
Historical setting
César Franck composed the Sonata in the late 1880s, at a time of great expression in music, art and politics. When I think of this period and all it entails, I imagine Proust and Parisian drawing rooms, and that image has always coloured my view and feel of the piece. I see it neither as radical nor as anachronistic: for me, it simply encapsulates fin-de-siècle Romanticism.
I think it is enlightening that Franck composed it as a marriage gift for Eugène Ysaÿe, who performed it at his own wedding, apparently after a hurried rehearsal. It is music written in the spirit of great partnership and love – not a violin sonata but a dialogue between two souls. That Jascha Heifetz selected it to perform at his final recital says a lot about its importance for violinists. It is a deeply touching masterpiece.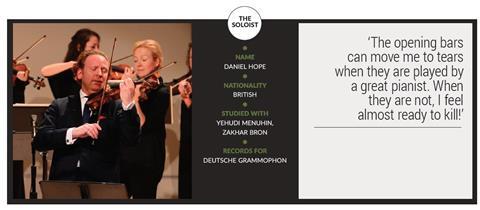 French influence and expression
When I was growing up I was greatly influenced by French violinists such as Christian Ferras and Jacques Thibaud, whose expressive sound world I adore. Thibaud often used 'plangent' slides, which are not heavy or Heifetz-like: they are more flautando and they mostly start from below the note, producing what I call a 'Franco-Belgian'-style sound.
I enjoy using these 'French slides' between the F and the G in bar 71 and between the B flat and the C in bar 72. In bar 77, I slide from the G flat to the A flat, using the fingering 1–1; and in bar 173 I play 3–3–2 as I vibrate and slide down, releasing the left hand a little as I change bow, so that the glissando isn't too heavy. If you control your bow to match the intensity of the left hand, it gives each note a 'fragrance', especially on the third finger.
Fingerings
Nathan Milstein hardly ever wrote fingerings in his parts: if he did, he believed he would become a slave to them. There's an element of truth to that: we get so used to practising the same fingerings repeatedly that sometimes it can be helpful to consult completely different editions, to start again from scratch. This can also help us to spot things in the score that we've missed before.
It is difficult for me to note down my fingerings for any given piece: in performance I tend to change them on the spur of the moment, depending on the way I want to express myself, but also on the pianist, the hall, and on various other factors. For example, at the beginning of the Allegro I may stay on the G string all the way up to the top D in bar 20; or I might change over to the D string in bar 18 for a new colour and a more focused sound.
One brilliant fingering of Menuhin's that I do use is in bar 41, starting in first position on the E string and then using the first open A to allow me to cross unnoticed to the second A on the G string. I think that's an inspired idea, because it also increases the dramatic quality of the music.
From bar 63 I use a fingering that pianist Menahem Pressler gave me, having played it himself with violinist Daniel Guilet: I begin on the A string, cross to the D string halfway through bar 64, then use a 3–3 slide to take me back to the A string for bar 66. There are many Es in these few bars and this allows me to find a different colour for every repetition.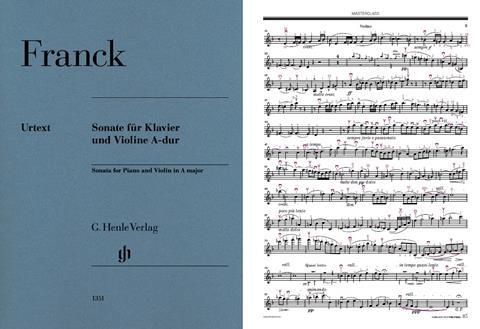 Dynamics
The entrance at bar 14 is only forte, but many violinists play it as loudly as possible. If you do that and play the whole passage on the G string, you may get into trouble by bar 19 because you'll be so loud that there will be nowhere left to go – especially as bar 20 is the climax. It is important to pace yourself.
From bar 55 Franck writes molto diminuendo to pianissimo dolce, in the middle of a passionato. This is quite a descent, from a swashbuckling forte into utter tranquillity in about half a second. Effective delivery is all about bow control. This is also the case in slower sections, such as the molto dolce from bar 67. The legato from bar to bar must be seamless.
Finding the right tempo
To choose the opening tempo, I think about the speed of the di nuovo presto from bar 220, which is the fastest section of the movement, and work back from there. I prefer the opening to be in one tempo, because excessive rubato can break the flow. However, the decision is largely in the hands of the pianist, who has to feel comfortable both musically and technically.
What you decide to do in certain magical interludes can also define the piece and how you feel about it. From bar 80, for example, what does Franck mean by quasi lento and then in tempo quasi lento? Does he want us to fade, then to struggle back to where we started? After this he writes rallentando, then animando (bar 88), a complex series of instructions over a very short period of time. There are many ways of understanding and interpreting them.
The up-beat to bar 154 is pianissimo and, for me at least, should be in tempo, although many violinists take an enormous amount of time here. Of course, every interpretation is individual, and there is no right or wrong, but I don't believe it makes sense to slow down so much, especially when there is a molto crescendo to fortissimo only a few bars later.
An equal partnership
Be mindful of the liberties you take when you are playing this piece, in order to allow the pianist space to breathe. There are very few moments that require the violinist to pull the tempo around too much. In the animato section from bar 202, make sure you are absolutely on the same page as the pianist: how much are you going to stretch out the beginning; how fast is the accelerando going to be; when should the quasi presto start?
Some violinists start to move forward from bar 203; others do so much later. I play what's written in the score, working gradually up from the slow tempo until bar 206. It has to be timed and balanced extremely carefully with what's happening in the piano part: it's all about a partnership of dialogue and interpretation.
Few violinists really do the poco slargando from bar 217, which should be a broadening and slowing for three bars as you prepare for the di nuovo presto. Don't decide the speed by yourself: as challenging as bar 220 may be, remember that you have far fewer notes that the pianist does!
Some violinists take a lot of time for bars 222–224, either because they play on the G string and have trouble getting up and down, or because they think it's 'musical' to play around as the pianist struggles to keep track of where they are. Even after an otherwise good performance, the piece can fall apart in these bars, and that's unforgivable: the moving line in bar 225 needs to be in tempo and together with the piano, stylistically and technically.
Linking the movements
I perform the whole sonata attacca: it's wonderful if the end of the first movement fades into the rumbling opening piano solo of the second; and the end of the third, which I think is some of the purest, most beautiful music ever written, runs exquisitely into the sunny piano–violin dialogue at the beginning of the fourth.
If I had to choose a favourite movement it would be the third. Nonetheless, the second movement is the be-all and end-all of the piece, with its changes of tempo, colour and dynamic flair. Its firework ending is often followed by thunderous applause. Franck didn't write a pause on the final note – it's just three beats and off – and Menuhin was very strict about this. Rather than take time here, he preferred the pianist to continue straight into the next movement. This can be incredibly dramatic, especially when the Recitativo- Fantasia cuts through the applause.
To see the marked-up sheet music, in association with Henle Verlag, download The Strad's February 2019 issue on desktop computer or via the The Strad App, or buy the print edition
INTERVIEW BY PAULINE HARDING