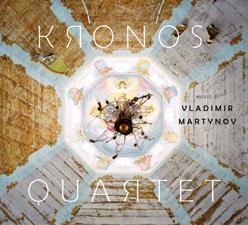 The Strad Issue: January 2012
Description: Moving performances of Russian music with a spiritual flavour
Musicians: Kronos Quartet, Joan Jeanrenaud (cello)
Composer: Martynov
The Kronos Quartet commissioned all these works from Russian composer Vladimir Martynov (b.1946), whose music is imbued with a deep spirituality. Like all these works The Beatitudes is fundamentally tonal, constantly reiterating and twisting a naive phrase that an American Shaker might have come up with over a steady repeating bass. It rarely leaves the confines of a major scale and achieves, in the warm, straightforward playing of the Kronos Quartet, a cumulative intensity over its five-minute span.
Joan Jeanrenaud, the original Kronos cellist, is reunited with her former colleagues for Schubert-Quintet (Unfinished). The slow movement of Schubert's String Quintet is the underlying model for both movements of the work, each over ten minutes long. In the first, a robust opening statement extends into a timeless, slow-moving line commented upon by cello and stabbing violin. The second movement does much the same thing, but is gentler and more introspective. The Kronos Quartet plays with beautifully understated phrasing and a wonderful command of Martynov's very long lines.
Der Abschied, Martynov's memorial to his father, opens with a seemingly endless succession of dissonant trudging chords and gives way, ultimately, to Mahler's 'Abschied' from Das Lied von der Erde. It is beautifully, movingly played. The recorded sound is warm and clear.



TIM HOMFRAY