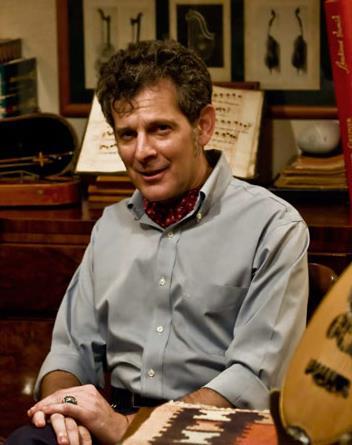 An Italian violin maker and dealer has been reunited with two violins that were stolen from him in Paris seven years ago.
Alberto Giordano (pictured), from Genoa, was on his way to the Musicora expo in March 2006 when his case containing a Giuseppe Pedrazzini, a Paolo de Barbieri and five bows was snatched while he was in transit at Orly Airport. As the doors shut on his interconnecting train one man grabbed the case while another pushed him so he couldn't give chase.
'It was an awful experience, being robbed like that,' recalled Giordano. 'I had one hand on the case, but the thief still got away. My colleagues know that I'm always very careful, especially so on subway trains and overground trains. I didn't think that an electric train that transfers people from one terminal to another was such a dangerous environment, but maybe I should have been more wary.'
He reported the theft to the police and appealed to the international violin community for help and information, but the instruments could not be traced. In April this year, however, two French friends of Giordano, guitar makers and experts Françoise and Daniel Sinier de Ridder, came across two violins in a sale catalogue of a Paris auction house that does not usually handle musical instruments. The two luthiers described the violins to another of Giordano's friends, the Italian collector and dealer Gianni Accornero, who immediately realised that the instruments were Giordano's, and alerted the luthier to their discovery.
The process of recovering the instruments was not without challenges. Giordano first had to enlist the services of a lawyer in Paris to help get the auction house to withdraw the violins from sale. A luthier friend in Nice, Pierre Allain, then helped Giordano make contact with the appropriate department of the Paris police. A trip to Paris followed, and after Giordano gave a fresh statement about the original theft and signed several papers, the violins, together with the bows – which were still in the case along with the instruments – were finally released earlier this month.
The violins, to Giordano's relief, were in exactly the same condition as when he had last seen them. 'It seemed like they had been untouched. So as stolen goods they can't have changed hands that much. They most probably stayed in Paris all the time.'
The luthier and dealer said he had his friends and good fortune to thank for the violins' safe return. 'I always supposed that I might come across one of the two instruments: the Paolo de Barbieri is very identifiable, because of its brand stamps and label. But I thought the other violin, being less identifiable, was gone forever. It was just lucky that the two violins were never separated. Everything remained in the same case.'
photo: www.giordanoviolins.com