Bows, for so long seen as mere accessories, are increasingly attracting serious investors, writes Femke Colborne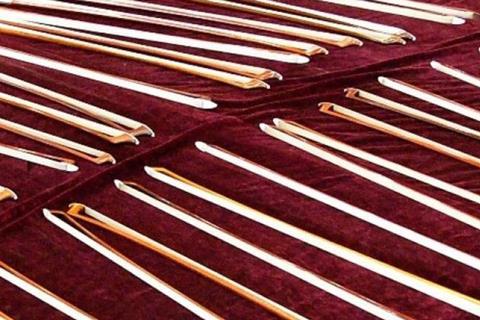 Traditionally thought of merely as accessories, bows are becoming more and more important – not only to players, but also to investors. Bows by certain makers now regularly fetch upwards of $100,000 (£63,000) at auction, and anecdotal evidence suggests that some have been sold privately for up to four times that amount.
'When violin making started in the 16th century, bows were merely considered an accessory,' says French bow maker and expert Jean-François Raffin. 'Makers would simply sell violins together with a case and a bow. They didn't care about the quality. For almost two centuries, the bow was not appreciated – it was like rosin or a shoulder rest.'
But this began to change in the 18th century, when the French bow maker François Tourte came on to the scene. 'Tourte is the Stradivari of the bow,' says Philip Scott, head of the musical instruments department at London auction house Bonhams. 'Tourte and his brother defined the length, strength and shape of the bow in the same way Stradivari did for the violin.'
After Tourte came a whole school of eminent 19th-century French bow makers, most notably Dominique Peccatte, whose bows also regularly command six-figure sums at auction. The influence of this school then spread across Europe and continued to grow during the 20th century. Famous names from this period include Eugène Sartory, François Nicolas Voirin, Albert Nürnberger, the Lamy family and Emile Auguste Ouchard.
The past decade has been a particularly important time for bows. Since the publication in 2000 of L'Archet – the first comprehensive book on the history of the craft, by Bernard Millant, Jean-François Raffin, Bernard Gaudfroy and Loïc Le Canu – knowledge and appreciation of bow making has spread like never before. According to Benoît Rolland, a French bow maker based in Boston, today's musicians are more aware of the difference a bow can make than at any other time in history. 'Musicians are more and more focused on sound production,' he says. 'They know more, and they are increasingly asking for old bows. They want to make a beautiful sound and they understand that the bow can help them make that sound.'
With this in mind, here are seven things to consider when buying a bow:
Know the market
Before you buy a bow, read about the history of bow making. Train your eyes and hands – go for knowledge rather than opportunities and bargains.
Know your budget
If you don't have the cash for one of the big names, there is a whole host of 19th-century French, English and German bows. And, of course, there are many excellent modern bows as well.
Check the condition
Make sure there are no cracks in the bow and that all the parts are original. If you are not confident about doing this yourself, ask a bow maker or expert to look over the item for you. You should also ask them to check the strength of the wood.
Check the weight
A good violin bow should weigh 58–62g, a viola bow 68–72g and a cello bow 78–82g. Anything outside these ranges may be difficult to sell on in future.
Ask for a certificate
Most genuine bows will have a certificate of authenticity. If there is no certificate, it is important to make absolutely sure that the person selling the bow can be trusted.
Check the playing quality
Apart from authenticity, playability is the single most important factor affecting the value of bows. Different players prefer different bows and the sound varies depending on the instrument, so it is a good idea to get as many musicians as possible to try the bow out.
Beware of bling
Bows with expensive-looking parts such as gold or ivory tips are not necessarily worth more. The maker may have adorned the bow because it was a particularly fine bow, but there are also examples of such decorations having been added simply because of requests from collectors. It is much more important that the bow plays well.
This article was first published in The Strad April 2011 issue.