The work is believed to have remained undiscovered since 1909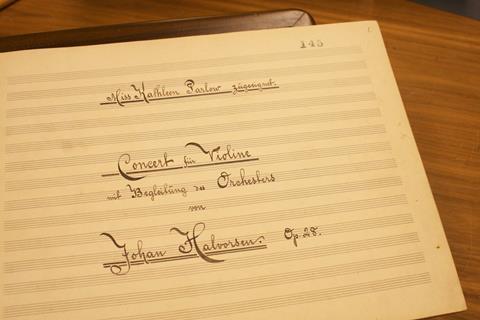 A manuscript copy of a violin concerto by Norwegian composer Johan Halvorsen (1864–1935) has been rediscovered in a Canadian university music library. The concerto, dedicated to the Canadian violinist Kathleen Parlow, was believed lost for more than a century.
According to researchers at the University of Toronto's Faculty of Music Library, Parlow gave the first performance of the concerto on 14 August 1909 in Scheveningen, the Netherlands. She performed it twice more that year, with Oslo's National Theatre Orchestra and Halvorsen himself conducting. It is believed there were no further performances of the concerto.
Parlow was a resident of Toronto until her death in 1963. Her papers were then donated to the university's music library, but the violin concerto was separated from the rest of the collection and housed in the library's performance collection.
The 21st-century premiere of the concerto will take place in July 2016 in Stavanger, Norway as part of the International Musicological Society's annual conference. The soloist will be Norwegian violinist Henning Kraggerud, who contributes an article on sympathetic strings to the February 2016 issue of The Strad.
Photo: Jessica Lewis