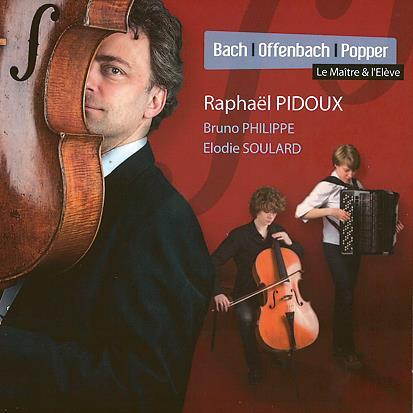 The Strad Issue: January 2010
Musicians: Raphaël Pidoux, Bruno Philippe (cellos) Elodie Soulard (accordion)
Composer: Bach, Offenbach, Popper
As the title suggests, two young players each accompany Raphaël Pidoux, in keeping with the pedagogical concept behind the Offenbach Suite. Bruno Philippe is the partner in this work, the last in a series of didactic pieces that travel across the range of demands from beginner's level to the more virtuosic. The combination of two cellos offers rich opportunities for full harmony and contrapuntal writing. It also induces better intonation, as the piano can mask really precise tuning. As a piece of music it is pleasant enough, and is certainly given an accomplished and robust performance here.
Continuing the cellist–composer tradition, Popper is more overtly attuned to flamboyant pyrotechnics, not least in the famed Spinnlied, which Pidoux plays with tremendous flair in this clear recording. The imaginative Gnomentanz is vividly depicted by Pidoux and Elodie Soulard, the latter really commanding the orchestral range of the accordion and lending colour to these ingenious arrangements by Yuri Shishkin. Overall, the distinctive timbre of the accordion best suits dance-inspired works, such as the Spanische Tänze.
Inevitably Bach is the towering musical figure in this company, and Pidoux offers a supremely refined and fluent interpretation of the Fifth Suite, with dance movements always alert to pulse and the more introvert movements expressively conveyed.


Joanne Talbot