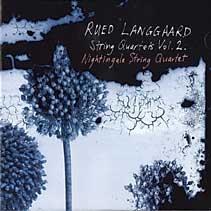 The Strad Issue: January 2014
Description: A welcome volume in a new survey of the Danish composer's quartets
Musicians: Nightingale Quartet
Composer: Langgaard
Rued Langgaard (1893–1952) composed ten major works for string quartet, most of which date from the decade between 1915 and 1925. His Fourth Quartet (actually his eighth) appeared in a revised version in 1931 and the so-called 'Italian Scherzo' in 1950. This second volume in the Nightingale Quartet's ongoing cycle gives listeners an opportunity to hear how Langgaard adapted material from his second quartet, 'Rose Garden Play' of 1918, to form the outer movements of the 'Summer Days' Quartet, as well as to savour the neo-Classical formulations of his four-movement A flat major Quartet, written at the end of the First World War but only premiered in 1993.
Dacapo recorded Langgaard's major quartets with the Kontra Quartet back in the 1990s. Fine though that two-disc set is, the Nightingale imbues the music with an added espressivo warmth and affection (enhanced by the recording's natural bloom, especially in SACD surround sound) that in the scherzoso central movement of no.4 suggests strong parallels with Dvo?ák's outdoor ingenuousness. The players capture perfectly the youthful ardour of 'Rose Garden Play' (Langgaard was 25 at the time), pointing up the music's transmutation into the sophisticated musings of the Fourth Quartet with exquisite subtlety, further enhanced by their decision to swap leaders for the later work. They also gently acknowledge the A flat major Quartet's backward stylistic glances with a nostalgic affection and sense of joy that is highly contagious.



JULIAN HAYLOCK