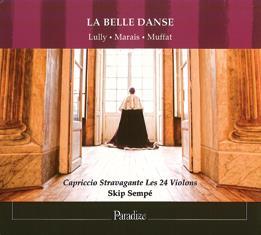 The Strad Issue: January 2012
Description: A new recreation of a renowned Baroque French string ensemble
Musicians: Capriccio Stravagante Les 24 Violons/Skip Sempé (director)
Composer: Lully, Marais, Muffat, Brade, Praetorius & Rossi
This live recording from the 2010 Festival Oude Muziek Utrecht has impressive clarity and presence. It marks this ensemble's debut and aims to recreate the original instrumentation of the Vingt-quatre violons, using reconstructed instruments from the collection of the Centre de Musique Baroque de Versailles.
These carefully considered, finely nuanced performances apply appropriate ornamental practices and radiate real empathy with the idiom in terms of sonority, texture and colour. Tempos and affects are carefully attuned and the French musical vocabulary of well-defined and recurring gestures is expressed with suppleness and conviction. The programme comprises four parts – one features overtures and pieces by Lully and Marais, another is devoted solely to Lully, a third embraces pieces by Brade, Praetorius and Rossi, and the final part combines music by Lully and Muffat.
Highlights for me include Lully's evocative 'Prélude pour la nuit' (Le triomphe de l'amour) and extracts from Le grand divertissement de Versailles and Les Plaisirs de l'île enchantée, Marais' exhilarating 'Air des Faunes et Driades' (Alcyone) and the excerpts from Muffat's Impatentia. Apart from occasional raggedness of ensemble, notably in the overtures to Marais's Alcyone and Lully's Roland, performance standards are high. Presentation is marred by one glaring error in the tracking details.
ROBIN STOWELL